NEWS
Star Jones' Health Scare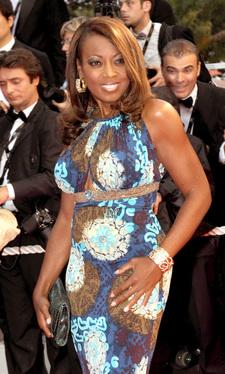 Before she was Star Jones, famous TV personality, she was a teenage girl struggling with a weight problem and a scary diagnosis.
"I was diagnosed with a tumor in my chest cavity," she tells Extra in an interview airing tonight of her health scare as a teen. "It left me with some physical scars and some emotional ones and I used to do everything in my power to hide the scar on the center of my chest."
Article continues below advertisement
"When they took the bandages off in the hospital, I had a complete nervous breakdown, almost," she adds. "I wasp crying because I saw my chest with stitches and sutures and it really devastated me at 19 years old."
Star also says the radiation treatment she underwent affected her weight.
"My thyroid was completely irradiated. So I saw myself balloon over the years and then that coupled with being lethargic and sedentary and overeating and relying on food, it just became an epidemic," says the formerly overweight TV personality.
Star will continue to shed light on her 160-pound weight loss on Oprah tomorrow, praising the daytime diva by saying,"She gives you a very safe place to share and sort of free yourself from demons. Oprah has been very candid about her weight struggles and I think it gave me a little bit of camaraderie to know that I was not just talking to her but I was talking to a number of her viewers who face the same struggle daily."