NEWS
Star Says She & Rosie are "Buddies"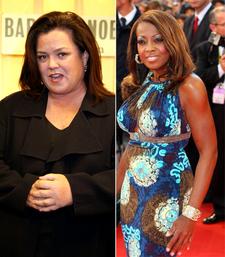 The brief time that Star Jones and Rosie O'Donnell spent together on The View was infamously tense — and the two have long been rumored to be foes off screen. However, Star tells OK! that the two haven't just buried the hatchet — in fact, they're pairing up to auction off a lunch with both of them to raise money for children in need.
"Rosie and I didn't grow up as children of privilege," Star explained to OK! at Monday's Skating With the Stars event at Central Park's Wollman Rink in NYC. "We always had that in common. We talked about it all the time."
Article continues below advertisement
Star says it was then a no-brainer to approach Rosie about the auction to help children in Harlem. "Without hesitation, she immediatley said 'of course!'" she recalled.
So have the two managed to put their past troubles behind them?
"What most people dont know is Rosie and I have been buddies for over a year and a half," Star revealed. "We've been talking, we e-mail, we text. As a matter of fact, in the cab on the way here she was sending me a text."
Star says she's actually surprised that folks she and Rosie are still at each other's throat. "People don't believe that adult women know how to say, 'I'm sorry that I hurt your feelings. That was not my intent. Let's get back to hanging like we should.' We're grownups."
That being said, the business-savvy Star was well aware of the publicity a joint project with Rosie would generate. "We knew that it would get buzz. That's why we did it," she explained. :We're not stupid. What we want is that buzz to turn into money for figure skating in Harlem."