NEWS
Star Wars: The Musical?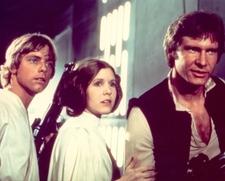 The Star Wars money-making machine is at it again, this time with a live stage production.
Come on, can't you just see it: a chorus line of stormtroopers and dancing wookies?
E! is reporting that George Lucas has signed off on Star Wars: A Musical Journey, a two-hour live musical event featuring John Williams' Oscar-winning score.
The show will premiere next year in London's O2 Arena and will be performed by the Royal Philharmonic Orchestra in sync with movie clips from the six live-action films, playing in chronological order, from The Phantom Menace to the Return of the Jedi.
Article continues below advertisement
The production will blast off April 10 in the U.K. and then embark on a European tour, complete with an exhibition of rare Star Wars collectibles including never-before-seen models, props, costumes and production artwork. No word when it will visit America.