NEWS
Stars Are Going to Peter Island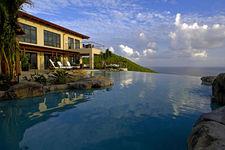 Surrounded by the glimmering water of the Atlantic Ocean, Caribbean Sea, Sir Francis Drake Channel and five bays, Peter Island, the largest private island in the British Virgin Islands, attracts those who truly want to disconnect from reality. Shopaholics and nightclub goers will just have to relax on this isle, where its history as a resort began in the late 1960s when Norwegian millionaire Peter Smedwig purchased the island and built the retreat from the ground up.
Article continues below advertisement
With 1,800 lush acres, more than half of which have been purposely kept undeveloped, Peter Island Resort ensures privacy for each guest. It is the perfect destination to unwind completely. Celebrities, socialites, multimillionaires and families come to sit back and sip a cocktail in a luxurious yet unpretentious atmosphere. Don't even bother packing stilettos.
Well there's only one place, so it's just a matter of which room you want. Peter Island Resort features 52beachfront or ocean view suites, each with a private balcony. The number of staff members always exceeds guests by almost double, promising and delivering the highest degree of service. Upbeat bartenders and warm servers make an effort to learn each guest's name––and they will by the end of your stay.
For accommodations, the main draw is the island's villa program. It features three private estates, which fit six to 12 people. Hawk's Nest, Crow's Nest and Falcon's Nest (the last one debuted in May 200) are all strategically perched hundreds of feet above the sea. Here, no request goes unfulfilled. From finding specialty wines to procuring therapeutic pillows or stocking your fridge with your favorite ice cream, the staff works wonders, even going so far as to find six different types of Oreos because, hey, you had a craving.
Article continues below advertisement
Highlights include your own personal staff with a concierge, maid, groundsman, private driver and chef. All meals are included in resort rates, and you can even create your own menu every day. Bring the family; with nanny quarters built in, parents can still have some time to themselves.
Get the VIP treatment by booking a complimentary afternoon at the super-secluded Honeymoon Beach—newlyweds not required. It'll just be you, a significant other and two lounge chairs. A gourmet lunch is, of course, part of the indulgent experience.
Four more beaches surround the island, each with its own vibe. Crescent-shaped Deadman's Bay is lined with coconut palms and has a direct view of Dead Chest Island, where legendary pirate Blackbeard marooned 15 mutinous members of his crew (and inspired the verse, "Fifteen men on dad man's chest/yo ho ho and a bottle of rum" from Robert Louis Stevenson's Treasure Island). Stay in shape on Big Reef Bay with a fitness trail perfect for jogging during sunset. White Bay has the best snorkeling on the island, and Little Deadman's Bay is one of the few harbors in the BVI where mega-yachts can dock.
Article continues below advertisement
Water sports are a lively fun element of the island's culture. The experts on staff give lessons in windsurfing, sailing and scuba diving. Embark on an aquatic adventure in one of nearly two dozen dive sites, where you can view colorful schools of fish and see exotic coral formations, all while experiencing exquisite, weightless underwater freedom. If you ware looking for more physical activity, schedule a game of tennis, shoot some hoops or slow down and take a yoga class in the state-of-the-art fitness center.
Don't forget about the Spa at Peter Island, a mini getaway in itself. Time doesn't exist here, making you appreciate the slow pace of island life. With 12 treatment suites, views of the ocean or tropical gardens, a private pool and Jacuzzi, and a medication area, the spa is a tempting place to spend the whole day. Be sure to book one of the two outdoor bohios, or spa suites, for your West Indian Honey and Sesame Seed Glow.
When the sun goes down, reserve a slot for Sunset at the Loop. Two years in the making, this train was specifically designed to wow guests with its breathtaking views. The resort chauffeur drops you off to enjoy an unforgettable sunset complete with cheese and crackers, fruit and a bottle of wine—the perfect predinner snack.
Complete your stay by chartering a boat for a cruise around Peter Island. The open air and warm ocean breeze will leave you with fond memories of your visit to this exclusive Caribbean hideaway.