NEWS
Stars Celebrate 40 Years With 'Sesame Street'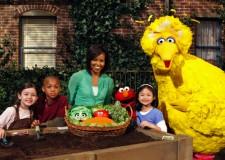 B is for Birthday! Happy Birthday to Sesame Street, which turned 40 last week. And what better way to celebrate than by inviting some of today's hottest celebrities? More than 440 celebrities have visited Sesame Street's storied set, where Jim Henson's Muppets educate children on everything from counting to the importance of loving and respecting the Earth.
From the beginning, producers angled to land celebrity cameos to make the show more appealing to adults. This season's star-studded cast proves no different, and has more A-list stars than the big screen!
Article continues below advertisement
For the 40th anniversary season, the following celebs will be dropping by the neighborhood: First Lady Michelle Obama, Cameron Diaz, Jimmy Fallon, Ricky Gervais, Sarah Jessica Parker, Adam Sandler, Tiki Barber, Hugh Jackman, Adrian Grenier, Jake Gyllenhaal, Maggie Gyllenhaal, Jenny Garth and more.
These celebrities will join a long list of guest stars who have appeared over the decades including Whoopie Goldberg, Julia Roberts, Ellen DeGeneres, Ben Stiller, James Earl Jones, Johnny Cash, Natalie Portman, Ray Charles, Bob Hope, David Beckham, Heidi Klum and Carol Burnett.