NEWS
Stars Celebrate OK!'s Fifth Anniversary at Big Apple Bash!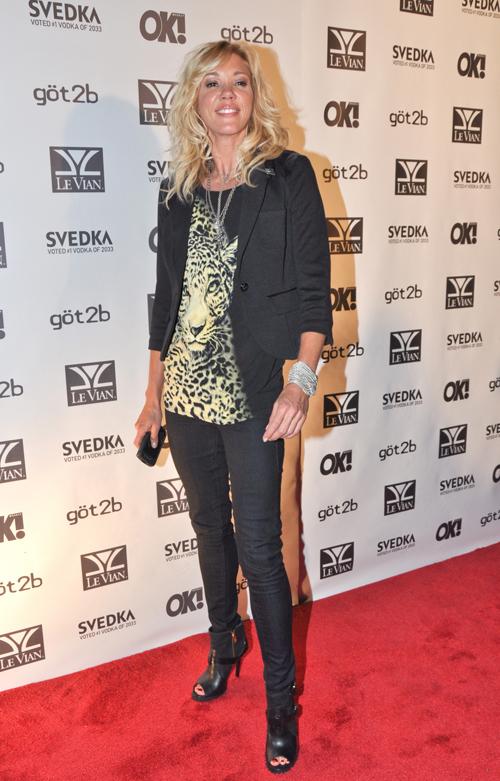 OK! just turned five years old, and what better way to celebrate than with an evening full of friends and famous faces? Ramona Singer, Louise Roe, Caroline Manzo, Jackie Warner, Danielle Staub, Ashley Conrad and more came out to party with OK! at our East Coast 5th Anniversary Party at Avenue nightclub in NYC last night!
Caroline brought two of her children with her for the evening's festivities, Albie and Lauren!
Article continues below advertisement
"I love it," the NJ Housewife and proud matriarch of the Manzo family told OK! of the party's atmosphere. "It's got great energy. The music's out of control. It's great! I'm enjoying myself. Much needed, and light stress."
Partygoers danced and mingled to music by DJ Reach and a special performance by DJ Mia Moretti and electric violinist Caitlin Moe.
So how have Albie and Lauren Manzo's lives changed since they were launched into reality TV superstardom?
"The only way it's changed is we get to do something like this," Lauren said, waving her hands at the party going on. "I think we've got a lot of opportunities, we never would have had without the show."
Albie added, "We've had a lot of fun with it and hopefully it keeps going."
Article continues below advertisement
Caroline's fellow Bravo Housewives star, Ramona from NYC also had a blast celebrating with OK!.
"The atmosphere here has a club vibe, yet it's intimate. It's large enough to be festive but not too large where it's overwhelming,"Ramona said. "I dragged my girlfriend to come and it's just fun here. The music, the energy. I love running into Caroline Manzo."
Miss USA 2010, Rima Fakih, also got in on the action at our glamorous event — sponsored by Le Vian, got2b hair products, Svedka and ONEHOPE wine!
The beauty queen said she goes to OK! for news and fashion.
"OK! has the gossip, it has news, has the style. It has everything and it's true," Rima said. "I'm hoping to be part of the best dressed list on OK! magazine."
The Lebanese beauty just wrapped filming a movie with A-lister Hugh Jackman!
"He's a really nice man, very sweet," Rima told OK!. "That's my goal, it's Hollywood."
The film Real Steel is produced by Steven Speilberg and hits theaters in 2011!
Article continues below advertisement
Celeb trainers Jackie Warner and Ashley Conrad made sure to stop by OK!'s Big Apple bash while they were in town.
"The energy's up. I love the music. I love having a glass of wine after a long day. So, it's great," Jackie, the star of Bravo's Thintervention, told OK!.
The health and fitness guru said she thinks it's very important to look at celebrities as models for healthy living.
"This country looks to celebrities for everything. And if celebrities are responsible about talking about good diet and good health it will encourage others. They have a trainers and they love working with their bodies. It's the trend of the future."
Ashley — who trains celebrities Kate Hudson, Bradley Cooper and Kristen Bell (among others) — said, she enjoys working with OK! on fitness stories.
"You guys do really great reporting," she said. "It's not one of those magazines where work with and they twist everything you say into something completely different. What you see is kind of what you get, which is always really nice."