NEWS
Stars Choose Team Debbie Gibson Vs. Tiffany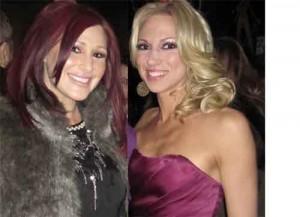 Debbie Gibson and Tiffany duke it out in the SyFy original movie Mega Python Vs. Gatoroid, which debuts Saturday at 9/8c.
In keeping with the spirit, Bethenny Frankel, Tinsley Mortimer, Taylor Dayne, Dustin Diamond (Screech!), Alan Thicke and the hosts of MTV's The Seven, Kevin Mano and Julie Alexandria, pick sides and weigh in with their '80s memories of the teen queens.
It's all in good fun. Debbie and Tiffany are in sync, each choosing to vote for her "rival."
Article continues below advertisement
"We're Debbany," Debbie jokes. "The new Brangelina."
Now we turn it over to the stars.
"Debbie had more songs I liked, but I loved I Think We're Alone Now by Tiffany," Tinsley tells me during Clicquot in the Snow held this week at NYC's Citi Pond at Bryant Park Ice Rink. "That was my song. I loved that song. But Debbie, I liked her style more. Debbie had that little black hat with her bangs and her ripped jeans on the cover of one of her albums, and I loved her. But one of my favorite songs was I Think We're Alone Now by Tiffany."
Bethenny lights up when asked about her preference during the Pampers Gifts To Grow launch event held this week at NYC's Oasis Day Spa.
"Hold on. I think I was Tiffany. Was Tiffany sings ... 'to turn back, can't turn back, I'm all keyed up and I can't …' ends singing? That's Tiffany."
Hm, I realize I have no idea beyond the singles: I was strictly a Debbie Gibson fan.
"Tiffany all the way," Bethenny says. "They're better songs. They're more fun and disco, cheeseball songs. I used to go to Studio 54 in the '80s, and there was a whole concert series, and Tiffany would come and she would play there. I went to see Tiffany at Studio 54, and ... chants 'too turned on, can't turn back, I'm all keyed up and I can't cool down, too turned on, I can't turn back now.' ends chant Tiffany."
Article continues below advertisement
For Bethenny, the memories continue to rush back.
"Love's a cliff and you're pushing me over it. Tiffany would die if she knew I was a die-hard fan!"
I hit up Dustin Diamond, Alan Thicke, Taylor Dayne and MTV stars during this week's Mega Python Vs. Gatoroid premiere held at NYC's Ziegfeld Theater.
"Tiffany," Dustin says. "I've known Tiffany for awhile. I've never met Debbie, though, so who knows. The night is young. I may switch sides, you never know."
Alan tells me, "I can't be partial one way or the other. They're both quite terrific. I grew up with them both, so I'll be excited to see what they have going on in this movie. I hope they're going to sing something!"
(Psst – they do! Debbie offers up Snake Charmer and Tiffany turns in Serpentine.)
Taylor cackles, "It's a little different when you're involved in the exact era that it started in, considering we're Long Island neighbors, Debbie and I, in the day. I've known them both for many years. This is a very sweet reunion. It's a lot of fun. I'm here for the fun – for the camp fun, for sure."
Article continues below advertisement
Tommy Page is on the list, and well, this guy looks like I remember him in the '80s, so it's a funny case of mistaken identity when Kevin Mano, host of MTV's The Seven, steps up.
"I'm Team Tiffany," he tells me. "For me, it's nostalgia … who you had a stronger connection to when you were growing up."
His co-host, Julie Alexandria, takes the opposite side.
"Debbie was more of a role model to me," she tells me. "She looks amazing. She's standing right next to me now! She's absolutely amazing. She looks stunning. She's an inspiration to me personally. Her longevity. She has managed to stay relevant in this industry, which is difficult, especially for a female, I mean, she has a career that spans 20, almost 30 years. She has absolutely been amazing. And she has style. I enjoy watching her in everything that she does."
Me too! Team Debbie all the way – no question.
Here are my pix with Tiffany, Debbie and Bethenny:
Catch Debbie Gibson and Tiffany in the SyFy original movie Mega Python Vs. Gatoroid airing on Saturday at 9/8c. Here's a teaser: