NEWS
Stars Collide for Hip-Hop Summit Action Awards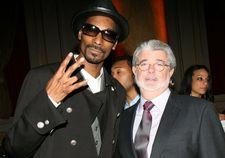 Snoop Dogg, George Lucas, LL Cool J and Ciara lend their star power to the Hip-Hop Summit Action Awards held at NYC's Capitale.
Nelly Furtado's "Promiscuous" provides the soundtrack as Snoop and George shake hands and pose for photos. Appetizers including chicken soto with peanut sauce and foie gras with chocolate and raisins are served.
What's the biggest challenge honoree Snoop has overcome?
"The stereotype that I'm just a negative gang-bang ******," the dapper rapper-turned-reality star tells me. "I love getting over that stereotype and becoming a black man that's intellectual and can speak and talk and communicate with any walk of life. No matter who I'm talking to or who I'm in front of, I'm able to conduct myself as a person." (He's really tall!)
Article continues below advertisement
George brings honoree/girlfriend/Good Morning America financial contributor Mellody Hobson as his date. "She's perfect in every way," the Star Wars and Indiana Jones mastermind tells me. "She's extremely smart, extremely beautiful and she just knows a lot more than I do." What do they like to do together? "Mostly nothing, if we can get away with it," he says, adding that his proudest accomplishment is his kids.
As 's "Please Don't Stop The Music" blares, Ciara is looking fabulous in Diesel.
"My proudest moment is really knowing how to be confident within myself," the "Goodies" singer says. "I had times when I may have been a little insecure or unsure of myself. I was very proud of myself for being able to step up to the plate and knowing 'you've gotta go for it, Ciara, you've gotta do it if you want to have it.' That's one thing — sticking up for myself. While we're at this event, just being able to give, and having had the chance to give to kids and spend time with them and talk to them and donate money and help. It's been fun. I'm very proud of that. I've come a long way from where I started, so I'm very thankful for that."
Article continues below advertisement
Next up is LL, who says he's here to support Russell Simmons.
"He's done a great job of showing the world that hip-hop can be a unifying force in America, and trying to promote the philanthropic and charitable sides of hip-hop culture and some of the artists," LL says. "It's good for our culture and our community."
How does he keep his hot bod?
"Dieting and giving myself a break," he says. "Allowing myself to cheat here and there so I can relax within certain perimeters and then get back to it. You know I go to a restaurant and order apple pie a la mode."
Hopefully Def Jam artist Chrisette Michele gets her wish.
"If I get to meet Ciara, that would be really cool," she tells me. "She's really, really tall on TV so I want to see if she's really that tall in person. I'm shallow. But I think I've met everybody already. Unless Michael Jackson's here!"
The lights dim, signaling the end of cocktail hour, as Madonna's "Like a Prayer" streams through the venue. Time for the show.