NEWS
Stars Descend On 'Dark Knight' Premiere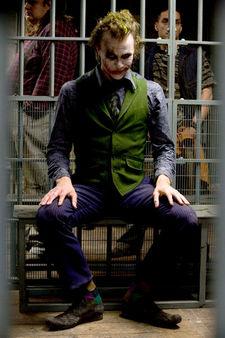 Heath Ledger is the star of the Dark Knight premiere, even though he cannot be present at the AMC Loews Lincoln Square event.
Though his life was cut short in January, 's memory lives on. Attendees including Ethan Hawke, dashing through in a brown-and-white baseball cap and beige suit; Josh Hartnett, who twirls through in a brown cap; and Gossip Girl's Ed Westwick, who is dressing his curly hair with a side part, pay tribute.
Article continues below advertisement
Maggie Gyllenhaal, who is in the movie, has no time for print, which is also what happened with Heath at his last premiere for I'm Not There – and at 2005's Casanova. (I was fortunate enough to spend time with him at The Regency Hotel during the I'm Not There press day. He seemed like a great guy – totally dateable.)
It's no wonder he was a hit with the ladies. In November 2005, he and then-girlfriend Michelle Williams stepped out for the Gotham Awards. According to my file, "They were giving each other goo-goo eyes as he cradled her during TV interviews."
Sadly, we must move forward without his towering presence.
Christian Bale, who plays Batman, shares a story about Heath playing The Joker.
"He did a fantastic job," Christian says. "He enjoyed playing the part immensely and I was glad I got to experience working with him and watching him develop into character. Personally I enjoy anybody who immerses themselves to such an incredible degree. I enjoy that too. I recognize how ridiculous it is, and I find it incredibly funny. To be honest, the more serious people get with any role, the more humor I find in it. I find that with Heath."
MORE ON:
Red Carpet Confidential
Article continues below advertisement
According to co-star Aaron Eckhart, Heath was a doting dad to Matilda, 2.
"Everybody on this movie had kids. Maggie, Christian … in the trailer, it was all kids talk. I'm the only one who didn't have a kid. Heath had just had a baby, Maggie just had a baby, Christian has two kids, Gary Oldman had two kids. It was a lot of baby pictures and a lot of baby talk. That was mostly what was going on. I met Maggie's, I met Christian's, I didn't meet Heath's but it was a lot of pictures."
Michael Caine calls Heath "very ordinary. He was a very quiet man, and very, very nice."
He says, "I worked with Heath very early on. I'd seen his performance. We just sat there talking. He was very ordinary. He wasn't preparing – you know – like 'please leave me, I've got to be with my script.' Some actors do that. We're just talking, and the director said 'OK we're ready,' and Heath goes into the elevator and he has to come out of the elevator and into a party and take over. Batman and I are giving a party. Out came this guy, The Joker, and I stood there absolutely stunned. I didn't have any dialogue or I would've forgotten it. He went straight past me and over to Batman. I just sat there flabbergasted. Right through it we just talked, and he would do it over and over again – just come out with this energy."
He adds, "I said to him one day 'Jesus, I'm too old to do anything as energetic as this.' And I said 'wait a minute, I couldn't have done anything as energetic as this when I was your age.' It's astonishing."
Heath surely would've delighted in the Batmobile staged outside on the black carpet, and the motorcycle prop used in the movie that greets partygoers on the way into the screening.
The Dark Knight is in theaters Friday.