NEWS
Stars go Gaga for Green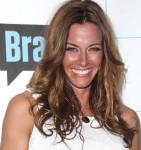 With Earth Day approaching on April 22 — and with OK!'s Green Issue on newsstands now — stars like Kelly Killoren Bensimon, Melissa Joan Hart, Brooke Burke, Al Roker and Olivia Newton-John are opening up about how they "go green."
Real Housewives of NYC star Kelly Killoren Bensimon tells me, "I'm green in a lot of ways. Green can be really glamorous. Green can be amazing. We use Method soap in the house, I unplug all the lights when I can, I don't walk around with the stereo and everything on all the time. I just bought this great Williams-Sonoma mat for $25 for my house. At my beach house, a lot of my furniture is from the 18th century. I try to take old things and recycle them into things that are new so that we're not constantly consuming and buying stuff. I'd rather have objects. My green is a little more unusual than the actual tangible way of talking about green."
Article continues below advertisement
Married mom of two Melissa Joan Hart is honest about how green she can be.
She tells me, "Having children is really difficult. The difference between taking care of their environment and taking care of the environment in general tends to conflict sometimes, but I try to use nontoxic chemicals in the house always — cleaners, laundry detergent, all that. With the next baby, I'm going to go with the cloth diapers. We recycle. I've recycled since I was a teenager. I try to be careful of my electricity and water use. There's a lot of different ways. Not idling the car when I'm sitting waiting for a friend or at the train station or whatever. I try to make sure I don't idle the car. Just little things to try and make a difference."
Meanwhile, Dancing With the Stars host Brooke Burke has successfully worked green-living into her family's life.
"I have a garden, we recycle, I really don't use plastic water bottles. There's a really great site — and they use the four R's — I don't remember the names of the site, but it's Rethink, Refuse, Re-use and Recycle. It's really about rethinking things and retraining."
She continues, "I don't order bottled water anymore, so I re-use aluminum water containers, which is a really easy thing to do. Same thing with the kids for lunches — we don't use throw-away containers. We use all re-usable containers, and we recycle at home."
Article continues below advertisement
Al Roker keeps it practical.
"Little things," the Today weatherman tells me. "You try not to run the water when you're brushing your teeth or shaving. Lower the thermostat. Try to walk instead of taking a cab. Little things."
For Olivia Newton-John, who appears on Glee next month, the green movement hits close to home.
"My husband has been working in the rain forest for 30 years, and he's owned Amazon Herb for 20 years," the Grease star, whose skin care line Lluviaskincare is available now, tells me. "He's been very concerned about the preservation of the forest and helping the indigenous people down there, so every time you buy any of these products, it goes back to the Amazon Center of Environmental Education and Research, and that helps educate the children of the Amazon to the value of the living rain forest."
Here are my pictures with Brooke and Olivia:
Pick up OK! on newsstands now to find out more about how the stars are doing their part to save the environment. The cover line is Katie Holmes/"At Last! Baby Brother For Suri!"