NEWS
Stars Honor Their Moms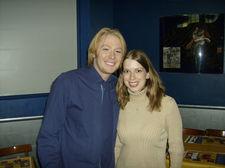 Stars are giving thanks to their moms on this Mother's Day.
"My mom always thought I'd be famous more than I did," tells me. "She was always sure that I was going to be famous and be a singer, et cetera, et cetera. I always wanted to be a teacher. She expected this of me before I did. I think she would tell you she's not surprised, but I'm totally surprised."
This year, Clay's mom will be on a cruise, but he typically takes her out to dinner.
Article continues below advertisement
"She's very particular about me buying her too much stuff. She doesn't really like it too much. She's a small-town lady."
On the other hand, Carson Kressley likes to shower his mom with gifts.
"You should always get your mom something she totally doesn't need because she made so many sacrifices for you," he says. "I always try to treat her with a little bit of luxury. Maybe it's amazing flowers or amazing bath stuff from Salno De Bano or even dinner. I might have her over to my house for dinner."
Helena Christensen sings the praises of her mom, who is from Peru. "She's the most amazing woman in the world. She's so giving, caring, funny and crazy in the right way. Her taking care of my son helps me so much."
What's so great about Rachel McAdams's mom?
"She has the best hot red hair. She's got gorgeous, enviable, beautiful auburn red hair."
Three Doors Down singer gives props to his mom.
Article continues below advertisement
"My mom used to be a teacher's aide and teachers aides don't make that much money," he tells me. "I'm the youngest of seven kids, and she put up money for a long time to buy me my first set of drums. They weren't anything extravagant or anything, but I was proud of those things and she was proud for me to have them. Her and my daddy listened to me beat on those things for years and years and years."
tells me, "The best thing about my mom is how organized she is. I don't want to limit her to organization, but she's a fighter. She's a survivor of breast cancer, so that's one thing I could never do – give up on anything – through her lesson and her experience with breast cancer. She's just a great mom."
Happy Mother's Day!