NEWS
Stars Kick Off Tribeca Film Festival Vanity Fair-Style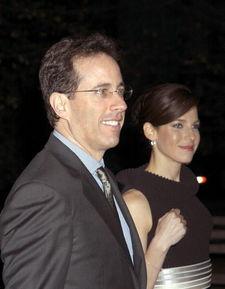 There is no tip sheet for the Vanity Fair Tribeca Film Festival party -- which is typically a bad sign -- but reporters brush that notion aside for the kickoff soiree held at the State Supreme Courthouse in NYC. After all, it is Vanity Fair, and they host the Oscar party.
While Madonna and Mariah Carey are in town for the Festival, they clearly have other plans tonight. But Jerry Seinfeld and wife Jessica, David Bowie and Iman, James Gandolfini and girlfriend, John McEnroe and his Angie Harmon lookalike wife Patty Smyth and Russell Simmons and his gal pal head up the steps and into the party.
Article continues below advertisement
Waiting on the inside is a dinner of leafy green salad with light vinaigrette, chicken pot pie and roasted carrots -- capped off with a dessert of warm chocolate soufflé cake, fresh berries and vanilla ice cream. Pretty lime green shamrock chrysanthemums, green tea roses and princess Irene roses fill the space, and the sounds of Don't Know Why by Norah Jones and Fugees' Killing Me Softly fill the air.
Here's Regis Philbin, accompanied by wife Joy. What does he love about this party? "They've got an old building and it's all dolled up," friendly Reege says. "It's very New York. There's a lot of energy."
Martha Stewart won't get political while the Pennsylvania primaries are in motion. "It's very, very close," she says. Who is she rooting for? "I'll tell you tomorrow." But Oprah's BFF Gayle King is loud and proud. "I got a crush on Obama," she sings as she crosses her fingers. "And the exit polls look good!"
MORE ON:
Natasha Richardson
Article continues below advertisement
Chazz Palminteri brings Gianna, his wife of "twenty years," as his date. Why are they a good match? "We're two people who really care about each other. We fight, but we want to hang out with each other. And we like making up."
Billy Crystal, Larry David and Harvey Keitel move through when designer Zac Posen gasps. "What do I say to OK! Magazine?"
Here is John Leguizamo and his wife Justine. He flashes a peace sign, a la Miley Cyrus.
Why do they make a good couple? "I'm Latin and she's Jewish," he tells me. "It's the most perfect blend of people. We're both neurotic, we're both passionate, we're both intense."
Sigourney Weaver says "I'll see you tomorrow," just as Angelica Huston breezes through. Oh, Zoe Kravitz is here! Good times. I chat with Drena De Niro, who tells me her dad – and Tribeca Film Festival founder -- Robert makes a great grandfather. (He plays Candyland and Chutes and Ladders with her son. How sweet!)
Padma Lakshmi admits she has no diet tips to share, but Liam Neeson's wife Natasha Richardson charms with her lilting British accent. "Vanity Fair throws a good party," she says.
We're waiting on Clive Owen when word arrives he's a "maybe" at the end of the evening. It's not even day one of the jampacked Tribeca Film Festival. Gotta conserve the energy.
Pick up the OK! on newsstands this week for more coverage of the Tribeca Film Festival. "Angelina and Brad's Wedding of the Year" is the cover line.