NEWS
Stars Party In Advance for Performers Peer Group Emmys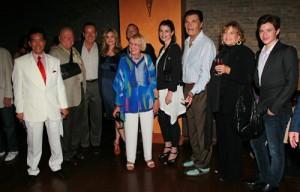 Winning an Emmy means different things for different stars, but they all have one thing in common — celebrating! Even though the show is three weeks away, celebs like Kyra Sedgwick, Chris Colfer and Bryan Cranston already toasted to their nominations at Chakra in Beverly Hills, Calif. on Wednesday night.
OK! GALLERY: FOX STARS PARTY LIKE ALL-STARS
While Kyra tries to find her version of a comfortable Emmy dress, Chris explained how his mom will be his date for the grand event. According to Chris, his mother will disown him if he does otherwise. Now that's what you call genuine motherly love and affection!
Article continues below advertisement
OK! GALLERY: THE FRESH FACES OF 'GLEE' GIVE FANS THEIR FIX IN HOLLYWOOD
Six-time nominee and two-time winner for Breaking Bad, Bryan compared multiple Emmy nominations to multiple marriages. He explained that while you love it and are excited each time, you don't have the wide-eyed innocence as you would have for your first marriage.
OK! GALLERY: SAG AWARD WINNERS SHINE
On the other hand, two-time winner, Kathryn Joosten from Desperate Housewives feels differently about the award. She claims, "It doesn't do squat." Her humble and grounded approach to the experience is quite hilarious. She really does deserve an Emmy for her honesty!