NEWS
Stars Party With Oprah During Met Gala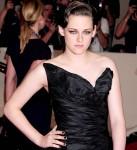 When Oprah Winfrey co-hosts the Costume Institute Gala benefit to celebrate the opening of American Woman: Fashioning a National Identity exhibit held Monday at The Metropolitan Museum of Art, she pulled all the biggest names into the ball.
Although Lady Gaga shies away from the swelteringly hot red carpet — and Kristen Stewart doesn't seem enchanted by the glamour — couples like Jessica Biel and Justin Timberlake, Gwen Stefani and Gavin Rossdale, Jude Law and Sienna Miller, Jessica Alba and Cash Warren, Naomi Watts and Liev Schreiber, Gisele Bündchen and Tom Brady, Joshua Jackson and Diane Kruger and Blake Lively and Penn Badgely can't wait to get inside this party.
Article continues below advertisement
But that's not all.
Sarah Jessica Parker, Taylor Swift, Jennifer Lopez, Renée Zellweger, Kirsten Dunst, Maggie Gyllenhaal, Anne Hathaway, Janet Jackson, Tina Fey (wearing a pantsuit!), Kate Bosworth, Rosario Dawson, Claire Danes, Nicole Richie, Kristin Davis, Eva Longoria Parker, Demi Moore, Eva Mendes, Harry Potter's Emma Watson, Glee's Matthew Morrison, Brooke Shields and Zoe Saldana are very excited about New York's biggest celebrity event of the year.
"I can't wait to see Oprah and T. Swift!" Kirsten exclaims.
And here they are.
Taylor Swift struts up the steps wearing a Ralph Lauren gown, which dips as low as it can go in the back, and a decadent red lipstick.
"It's sparkly," the country darling says. "This is a gown you wear to a ball. It's funky and glamorous and takes a lot of chances."
Moments later, a well-to-do fan's mom accosts Taylor on the carpet, but she handles the feigning praise with poise and grace.
Article continues below advertisement
Oprah, wearing Oscar de la Renta and accompanied by the designer himself, has a confession. "I like tequila," she says, adding, "My hair is down for the party, and I wore it curly because it's a bad day for straight hair. It was all worth it. It's a double-O team here!"
She'll join BFF Gayle King at her table inside. "She loves a tequila shot, I'll tell you that," Gayle says. "She does!"
Why did Anna Wintour, who also co-hosts the ball, choose Oprah?
"She does represent to me the American woman with the incredible work ethic, her energy, her beauty, her philanthropy," Anna says. "She's every woman. I'm honored to have her with me tonight."
Here comes Stella McCartney, Kate Hudson (wearing a spectacular braid!) and Liv Tyler. The three ladies got ready together.
"We have a little ritual where we meet at 2 p.m. or 3 p.m., and we drink champagne and we do hair and makeup," Liv says. "We take pictures and gossip, and have a great time. It felt great. Then we come here and we start sweating, and we're like 'I'm going to trip. What do we do now?' "
Article continues below advertisement
She adds, "We just sat all together and shared hair and makeup. We said, 'Oh no, make your braid looser or tighter, I like that, I like this.' "
Renée Zellweger slides in but has difficulty making it up the steps in her gown.
Of her dress, Sarah Jessica Parker, wearing Halston Heritage, says, "I like it very much." Eva Mendes says, "I love it because everything fits," motioning to her stomach. And why does Demi Moore love her dress? "Because I do!" she exclaims. Wearing Michael Kors, Brooke explains, "I had to fix the train a few times." Gisele Bündchen says, "I like the texture. It's leather, like real leather."
Katy Perry (who was actually born Katy Hudson) steals the show in the dress department with a light-up frock that makes her look like a carnival ride. But she turns it off when she heads inside, so it doubles as a fantastic and functional fashion.
"I want to see Gaga," Katy says. "She's always a step ahead."
White, blue and metallics reign supreme on this red carpet, and Burberry-clad Emma Watson embodies the white trend.
Article continues below advertisement
"I love that it feels like me," Emma tells me. "I'm wearing something that is really 'Emma.' I don't feel like I'm wearing someone else's clothes for the night. It fits me perfectly, I love the white, I love that it's classic but also edgy and young. It makes it so special."
Calvin Klein-clad Zoe Saldana steps up.
"I feel feminine, but it doesn't overpower me," she says.
Now it's time for Camilla Belle.
"I love the color, I love the style and how feminine it is," she tells me. "It's rich and beautiful."
What about her extended eyeliner?
"I think because the dress is so rich and so powerful that you want to do something … no lips to compete with the dress … I wanted to do something dramatic with the eyes and keep it at that."
Here come the Trumps. Ivanka, with hubby Jared Kushner, heads inside first, followed by dad Donald and stepmom Melania.
How did their young son Barron help her get ready?
"Oh, he loves my dress," Melania tells me. "He plays with the dress, and says, 'I will help you, I will help you.' I say, 'Thank you so much.' "
She can't wait to head into the party.
"We will see Oprah later," Melania says. "She's our friend."
Pick up the OK! on newsstands Thursday for more coverage of the Met gala.