NEWS
Stars Party Reebok-Style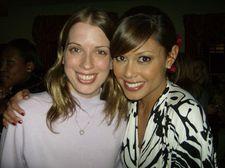 , Blake Lively, , , and give props to Reebok when they unveil their Freestyle World Tour collection at 632 on Hudson in NYC. (Fun fact: It's the house used in The Real World: Back To New York!)
As 's Umbrella plays and appetizers including reuben sandwiches make the rounds, Blake saunters through. "Hi, how are you?" she asks me.
Article continues below advertisement
Holding up a red-and-gold shoe from Spain, Vanessa hams it up for the cameras. When we meet, she repeats my name twice, right in a row – isn't that a mnemonic device? I am instantly impressed with her over-the-top yet sophisticated demeanor.
"Reebok was my very first tennis shoe," Vanessa tells me. "I was growing up, and I was such a quiet girl. I came home from kindergarten, and apparently I had to have Guess jeans and Reebok Freestyle. I said 'they need to be the white ones with velcro on the top' because that's what everybody had, that was what was cool. I'm an eighties baby. It took a lot of earning and a lot of incentive, even though I was only six, it was 'if you act right and do your job and go to school and help around the house' then it was an incentive. I finally got them and I wore them until my toe popped out of the front. I'm not kidding you. Tied it up, put the lace, the velcro, did the peg leg in the shoe or as a mix-match stacking the socks yellow-blue and then yellow-blue going up. I loved them. I had the white and as I got older I had the black."
Amy, who is joined by fiancé Branden Williams, greets Vanessa with a peck on the cheek.
"I used to wear these freestyle Reeboks back in the eighties, and they've always been fun," Amy tells me. "The style just completely left, and now I'm ready to wear them again with skinny jeans and sweatshirts. They're just fun shoes."
"Oh, you're pregnant," Leighton coos to an expectant reporter. She puts her hand on her burgeoning belly.
MORE ON:
Red Carpet Confidential
Article continues below advertisement
How does this Gossip Girl stay looking fabulous?
"You're asking me because it's spring, but do you know that it's three degrees outside?" the Jay Godfrey-clad star asks me. "Really. I can't believe I'm wearing this right now. I'm like 'OK, it's spring, so I need to wear something springy.' I should be really happy, but honestly it's two degrees outside."
Here's Christina, who is sitting in the corner. "My favorite place in the world is Rome," she tells me. "I love Rome, Italy. I do a lot of walking there. The last time I went to visit Rome, I didn't take a cab anywhere. The food was delicious. I love capturing a piece of history every step you take. It's like you end up in front of some beautiful statue or in front of columns or the coliseum. The shopping is wonderful. Haha. The food, the shopping, you name it. There are beautiful guys there too."
The presence of Lil' Kim interrupts our time together. Christina lights up. "Hey girl!" she says.
"Recently my favorite pair of shoes that I've been liking a lot on stage have been my French accent Christian Louboutin," Kim tells me. "They're very comfortable when I'm onstage and very glamorous, fashionable and fabulous. They're just comfortable and they're so sexy at the same time. However, I have been rocking a lot of boots because it is winter. I have these Dolce and Gabbana boots that are my favorite. I have two pairs of the same boot."
Whoa – Vanessa's back again before she heads out to meet up with boyfriend Nick Lachey at Tenjune. She's on a roll.
"I love the creativity of fashion and bringing something as classic as these shoes into the new age and new world and new year," Vanessa tells me. "I think it's amazing and it makes me creatively start flying."
Fly, girl, fly!
Check out celebrity pix from the Reebok Freestyle World Tour event and more in the updated .