NEWS
Stars play dress up for Halloween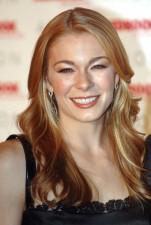 Halloween is a holiday everyone enjoys, especially Hollywood's hottest superstars.
Lake Bell plans to spend the spooky day with Cameron Diaz and pals. "I don't know if we'll be Crayons, but it might be something dorky like that." High School Musical's Ryne Sandborn plans to be John Mayer for Halloween. "I'll have longer hair and a casual renaissance look. Maybe I'll get a guitar and carry it on my back."
Article continues below advertisement
They have their share of titillating tidbits from the past.
Rascal Flatts' Joe Don Rooney tells me, "There's a lot of good memories from egging people's houses to toilet paper-rolling people's houses. One of the cooler ones is going to the Playboy mansion with my wife Tiffany and dressing up and having a ball. She was Snow White and I dressed up like the president. What was so cool was being there and seeing all these amazing people – celebrities – just hanging out. It was fun. It was something I'll always remember."
LeAnn Rimes tells me, "My husband and I dressed up as Mary Had A Little Lamb. I was Mary, wearing a trashy little Mary outfit, and my husband was a lamb with no shirt and lamb pants and a collar. I led him around all night. I was a little dominatrix. It was really fun."
Rachael Leigh Cook tells me, "My brother and I won a costume contest at the mall when we were kids. My mom dressed us up like Queen Elizabeth and Sir Frances Drake."
Article continues below advertisement
KT Tunstall tells me trick-or-treating is called "guising" in her native Scotland, and guisers perform a song, skit or poem before getting candy. One year she dressed up as Dolly Parton, with two balloons stuffed up her shirt, and her pal went as Dr. Who. "We went to a house in the posher part of town, and we knocked on the door. We didn't realize it at the time because we were young, but they were all hammered and having a Halloween party. We did our skit, and they gave us ten pounds. I don't think either of us had had a ten pound note in our lives. We were just imagining how many sweets we were going to be able to buy with ten quid. It was fantastic!"
What are their favorite costumes from Halloweens past?
"I was a bee," Renee Zellweger says. "My mother made the costume with pantyhose and black wings." 50 Cent tells me he was an M&M when he was a kid. "I haven't worn a Halloween costume in a long time," the rapper says. LL Cool J tells me, "I had a couple Ronald Reagan masks that were pretty hilarious." Ashanti tells me her best Halloween costume: "I was Raggedy Ann one year with two big red ponytails." Mya tells me, "I was a Redskin cheerleader in the fourth grade. I'm from the Washington, D.C. area, and my mother made that costume. She put a big red R on it. It was really tacky, but it was probably my best, and original. You couldn't buy it from the store." Miri Ben-Ari tells me, "When I was little, my mom put me in a Peter Pan costume. It was very funny."
James Blunt confesses he doesn't have a favorite Halloween candy, but Deborah Cox prefers Twizzlers. Joey Fatone likes M&Ms mixed with either peanuts or popcorn; Lisa Rinna reaches for candy corn.