NEWS
Stars Pledge Allegiance to Obama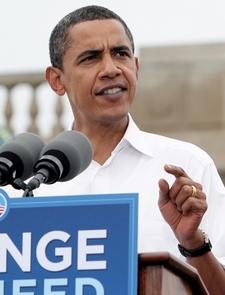 On the eve of President-elect Barack Obama's Inauguration, some of Hollywood's hottest stars are rallying behind his message of change.
In a series of moving videos directed by Demi Moore, MySpace Celebrity and Ashton Kutcher's Katalyst Media asked celebs including Ashlee Simpson-Wentz, Aaron Eckhart, Alyssa Milano, Courteney Cox and David Arquette, Tobey Maguire, Dakota Fanning, Eva Longoria and more to pledge service to the President-elect. The moving videos represent ways in which each star plans to take actions that lead to the nationwide change motivated by Obama's campaign.
Article continues below advertisement
"We are honored to be working with MySpace to rally the entertainment industry to answer President-elect Barack Obama's call to service," said Kutcher. "The Presidential Pledge is a platform for people across the nation and throughout the world to make a first person committment of service to our new President."
Be sure to pick up the latest issue of OK! for eight pages of exclusive inauguration coverage and photos!