NEWS
Stars Primp For 'Sex And The City' Premiere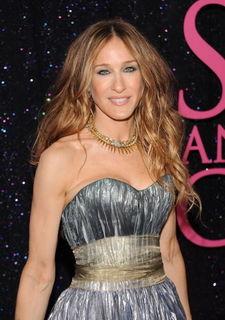 Sarah Jessica Parker sparkles at the Sex and the City: The Movie premiere held at Radio City Music Hall in NYC.
"The best part of doing this movie is being back with my best friends again," she tells reporters. "The sexiest part about tonight is being with you -- and all those people."
The massive crowd gathered across the street certainly deserves the love. Umbrellas perched, the devotees wait through a fierce downpour – and every single woman is dressed up just like Carrie Bradshaw herself. Talk about an ego boost!
Article continues below advertisement
While Kim Cattrall strikes a cute pose alone, Kristin Davis and Cynthia Nixon dash into the theater together.
The girls' significant others fly solo. After posing for photos, Sarah Jessica's super-sweet hubby Matthew Broderick climbs over the velvet rope and slinks off the pink carpet. After all, this is her night to shine. On the other hand, Kim's chef boyfriend, Alan Wyse, chats it up. Cynthia's girlfriend, Christine Marioni, enters an hour earlier. She's wearing a beige men's suit!
Oscar winner Jennifer Hudson, who plays Carrie's assistant, makes a pit stop. She has really slimmed down. Impressive! What did she love about the show? "They talk about real things that we all go through." And, what does she think about the new American Idol David Cook? "I love David Cook but I felt Archuleta should've won," she says. "At this point, they're both the bomb."
Fergie, whose tune Labels And Love is the theme of the movie, shows off her engagement bling. How many carats? "I'm not telling," she jokes. "Guess." What's the story behind the song? "It's a love triangle between fashion, friends, plus love." Wait, where's fiancé Josh Duhamel? Home sick! : (
Article continues below advertisement
Here come the guys.
What was the sexiest part of making the film? "We got to do it so many times," Chris "Mr. Big" Noth says.
David Eigenberg can't believe this movie was made. "I've been on the record saying this day would never, ever happen, and it has. I was wrong! Happily I can admit I was wrong."
Jason Lewis is thrilled to be back with the cast. "It was fun," he says. "I actually had everyone out for a barbeque. It's always family."
Willie Garson, who plays SJP's gay best friend, slides through. "I love cosmos," he says.
Donald and Melania Trump make their entrance. Ivanka's stepmom confesses she loves the SATC style, and Donald says the flick is "great for New York." … Oh, there's Jerry Seinfeld and wife Jessica waving. Hi guys! … Idina Menzel is thrilled to be here tonight. … Get this: Destiny's Child's Michelle Williams says she's holding a Sex and the City viewing party, like millions of women around the world. … Donna Karan gives a thumbs up when asked if the SATC women inspire her fashion. …
Article continues below advertisement
Lauren Bush, with much older boyfriend David Lauren, won't talk about cousin Jenna's wedding, but says she's well-rounded like Carrie. Emmy Rossum also gives a shoutout to Carrie. "She's effortlessly cool," she says. Whoa. Dean Winters loves Carrie, too. "I was Carrie's **** buddy, so I'm biased. She's my favorite." ... Surprise, surprise. Lydia Hearst is a Carrie girl. "Every girl in her life goes through heartbreak and hard work and has to overcome obstacles," she says. "She is definitely the strongest of the characters." Meanwhile, Lil' Kim says Samantha is her type. Yep!
It's showtime. My friend Doree and I are in row Q, a few rows behind Sarah Jessica, Kim, Kristin and Cynthia. Oh, look, there's Mario Cantone! The movie is great. Get this: On the way out, we bump into Gilles Marini, who is taking photos for revelers. (Spoiler alert: He's Dante, the guy with the hot shower scene.) How funny. The swoon-worthy actor dropped by the OK! office last week. :)
Find out what happened later with Jason Lewis Charms at the 'Sex and the City' Afterparty.
Sex and the City: The Movie is in theaters now.