NEWS
Stars React to Globe Nods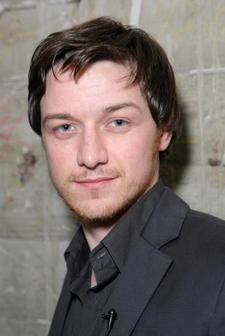 Angelina Jolie, Cate Blanchett, Jodie Foster and Julie Christie better watch out — James McAvoy is coming for them.
The handsome Scotsman, who earned his first Golden Globe nomination for the sweeping love story Atonement, is willing to do anything to ensure his celluloid love interest, Keira Knightley, will have the Best Drama Actress trophy all to herself.
"I told her if I see any of her competition, I'll break their legs," he jokes to Extra.
Article continues below advertisement
No word on if he's ready to take on his own competition, which includes George Clooney — who called his nod for Michael Clayton an "honor," Denzel Washington, Viggo Mortensen and Daniel Day-Lewis, but the 28-year-old says hearing his name called among the five is more than enough.
"It would be great to win a Golden Globe. It's kind of great just to be talked about anyway," he says, adding that he most definitely will be celebrating the mention. "This town isn't going to know what hit it! I'm going wild tonight!"
Nikki Blonsky's coffee table didn't know what hit it either — the Hairspray breakout star couldn't contain her excitement after learning of her Best Actress - Comedy/Musical nod that she "decided to pick up the coffee table and throw it."
What meant more to the 19-year-old, though, was being a "plus-sized nominee! We did it!!"
Nikki is up against another ingenue, Juno's Ellen Page, who was at a loss for words when she learned of her nod. "I feel extremely grateful…I 'm kind of speechless."
Article continues below advertisement
As for the TV peeps, House executive producers Katie Jacobs and David Shore are ecstatic with their first ever nomination for Best Drama Series, especially in the show's fourth season.
"Being nominated by the Hollywood Foreign Press means so much to us," they announced. "They have such a keen eye on recognizing what the next hit will be, it is particularly satisfying to be acknowledged while we are in our fourth season. There are so many great and different shows scattered all over the dial, as evidence of this list of nominees, it makes this nomination all the cooler."
The show's star, the ever brilliant Hugh Laurie notched his third consecutive nomination and could be on his way for a third consecutive win. House is up against newbies Big Love, Damages, Mad Men, The Tudors and Grey's Anatomy, the defending champion.
"I am excited and honored by this nomination from the HFPA," Grey's creator Shonda Rhimes says. "This is a real testament to the hard work and dedication of the cast and crew of Grey's Anatomy."
Article continues below advertisement
The medical drama also received a supporting actress mention for Emmy winner Katherine Heigl, who, while excited over her nomination, said she may not attend the ceremony should the writers' strike remain unresolved by the Jan. 13 ceremony.
"What's so great about the Golden Globes is it's just such an awesome opportunity for everyone to get together and really sort of celebrate the year's work," she says. "If we can't be there… because we can't cross the picket lines… it's just going to be very disappointing and sad."
Also disappointing and sad would be if Kevin Dillon won Best Supporting Actor — for his Entourage colleague Jeremy Piven at least. The Piv joked that he can't take any more of Johnny Drama's good fortune.
"He really has it all this year. He's got a beautiful baby, a wife and an incredible family," he says. "And now being celebrated for all his hard work… but I will battle him 'til the death."