NEWS
Stars Recount Their Best Fourth Of Julys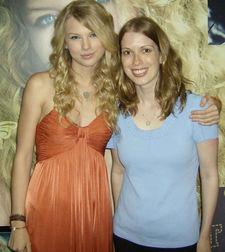 It's time to honor the red, white and blue now that Independence Day is here. As we enjoy cookouts, parades and fireworks with friends and family, the stars fondly remember their favorite Fourths.
"I spent my summers at the Jersey Shore," Taylor Swift tells me. "There was a Fourth of July parade, and we lived on the bay. All these boats would pass our house and we would try to hit them with water balloons and a slingshot." Did she ever hit them? "All the time! It was a yacht club parade, so all the elite were dressed in their best. We would try to hit them with water balloons."
Article continues below advertisement
Ashanti tells me, "I was at a barbecue with some friends. They were doing firecrackers in the yard, and one of the bushes caught on fire on the side of the house. One of the guys came running up the patio, and there were so many people there. There were kids, there were people in the pool, barbecuing, dancing, there was drinks all over. So somebody dumped the cooler on the bush, and the fire got bigger. The fire got huge. All the guys were pouring ice and buckets of water. I forgot how they finally got it out, but they finally got it out. It was hilarious. They had to get the fire trucks to come up to the house. It was very funny."
Guys get especially rowdy.
Stephen Colbert tells me, "I grew up in South Carolina, so it all has to do with fireworks as a child. All fireworks are legal in South Carolina. I like blowing things up."
Trace Adkins tells me, "I set the pasture on fire behind the house. I shot the bottle rocket off in the backyard, and it landed way back. We kept shooting bottle rockets and hadn't noticed the whole pasture was on fire. It was real dry. I'll never forget that. I was like 14."
Article continues below advertisement
Stephen Baldwin tells me, "Out on Long Island, we used to get a pack of firecrackers. It was called a mat. A mat of firecrackers in America is when you buy fifty firecrackers together and they're all tied together by a fuse, and you light them off. One of the most fun memories that I have is when we lit off a mat of firecrackers in the house, and my dad whooped all of us. It was quite amusing."
What's Matthew Modine's July 4 tradition? "Go find a park and sit under the fireworks."
Clay Aiken tells me, "I grew up going to the fireworks."
Camp Rock's Alyson Stoner's favorite Fourths have been in Toledo, Ohio, with her family.
"I love barbecuing. Being comfortable and being with family is the best feeling."
Kit Kittredge: An American Girl star Madison Davenport says, "We had this giant crocodile across our lawn, but it wasn't a real crocodile thank goodness, or else I wouldn't have fingers. It was a Slip-N-Slide, and it was so fun because it was giant. It took up two lawns. It was the funnest thing. And we had snow cones, my mom made her famous cake – the American flag cake – and it was really fun."
Some stars' best times have been spent jet-setting on the holiday.
John Leguizamo adds, "I think I was in Ecuador on a ship, running around and drinking, carousing, water-skiing, near the Galapagos. It was pretty cool."
How will they celebrate this year?
"I don't really have a tradition, but a lot of my friends have barbecues, so I'll probably do something like that," Brittany Snow tells me.
Miranda Lambert adds, "Sparklers are my favorite. I love fireworks."