NEWS
Stars Remember Natasha Richardson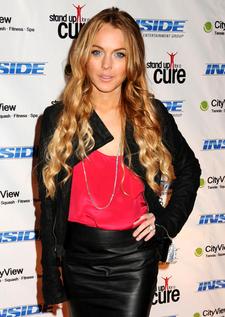 Stars from Hollywood and Broadway communities are remembering Natasha Richardson, who died yesterday in New York after sustaining injuries in a tragic skiing accident in Canada.
In an interview with Entertainment Tonight, Jodie Foster, who starred with Natasha and Liam Neeson in 1994's Nell, expressed her sadness. "Natasha was brilliant, beautiful, funny, talented beyond measure, as emotionally raw as she was razor sharp. Tasha loved fiercely and that love continues in all of us who knew her. May Liam Neeson, her beautiful boys and her loving family hold her close as they move through this tragic moment."
Article continues below advertisement
Lindsay Lohan, who played Natasha's twin daughters in the remake of The Parent Trap back in 1998, fondly recalled her time on set. "She was a wonderful woman and actress and treated me like I was her own," Lilo told the Associated Press. "My heart goes out to her family. This is a tragic loss."
In an interview with the BBC, actress Judi Dench said that she was "a really great actress" and recalled that she had "an incredibly luminous quality, that you seldom see, and a great sense of humor."
Sam Mendes, who worked on the Broadway musical Cabaret for which Natasha won a Tony, said, "It defies belief that this gifted, brave, tenacious, wonderful woman is gone."
Other celebs are sharing their feelings about Natasha via the Internet. In a post on her blog, Jane Fonda remembered meeting a young Richardson while working on the set of the film Julia in which she starred opposite Richardson's mother, Vanessa Redgrave. "She was a little girl but already beautiful and graceful. It didn't surprise me that she became such a talented actor," Fonda recalls. "It is hard to even imagine what it must be like for her family. My heart is heavy."
Article continues below advertisement
Alan Cumming, who starred alongside Natasha in Caberet on Broadway, wrote a blog post titled "Tasha." "I have been thinking about the times I spent with her since I heard the news of her tragic accident, and the strongest memory I have is of her laughter, her unmistakable throaty laugh. I think that's a great way to remember someone," writes the actor."Liam and the boys and her whole family have lost an amazing woman. We all have. Goodbye, darling."
Demi Moore took to Twitter to send her condolences. "I am sending out prayers for Natasha Richardson and her family. A real reminder of how precious life is and how quickly it can be gone," shared the actress.
Martha Stewart also tweeted her reaction upon hearing about Natasha. "Just heard the tragic news about poor natasha richardson her family must be devastated. My sincerest condolences to all."
Talk show hosts are also expressing their grief over the sudden passing on the star. In today's broadcast of Live with Regis & Kelly, Kelly Ripa spoke of Natasha's personality. "She was a lady. I can't tell you enough what a good person she was, and fun and vivacious and the most full of life," she said.
Oprah Winfrey also addressed Natasha's death at a taping of her show. "I just want to say how deeply saddened I am, we all are, by the sudden passing of actress Natasha Richardson yesterday. Our thoughts and prayers are with her husband Liam Neeson, their two sons, the rest of their family and friends. Yet another reminder of how fleeting life can be and how precious. We need to value every moment," shared the host.