NEWS
Stars Reunite For 'Vantage Point' Premiere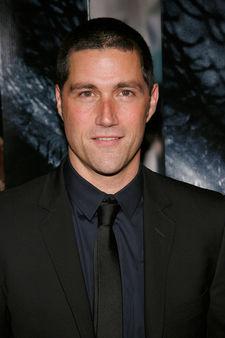 Matthew Fox, Dennis Quaid, Sigourney Weaver, Forest Whitaker and Zoe Saldana are thrilled to see each other again for the premiere of their political thriller Vantage Point held at NYC's AMC Lincoln Square.
Matthew brings wife Margherita along for interviews while Dennis' wife Kimberly chats with friends. Mrs. Quaid holds Mrs. Fox's purse for safe-keeping. "You look fantastic," Kimberly says, complimenting Margherita on her dress.
Article continues below advertisement
Would Matthew stand in the line of fire?
"I would take a bullet for my family," the affable actor says. "I have an enormous amount of respect for people who work in this area. They give their life to the profession. They're constantly in a job in a professional manner."
Any well-wishes for Marc and J.Lo? "For Marc and ha!" he says. "What, are they having a baby?"
Here's Dennis, who chats about family and says he appreciates that the people of Mexico City – where the film shot -- have heart. "Overseas they're not too happy with us right now," he says. "It is a very different feeling. But I think that's all going to change come February. We are Americans."
What did Dennis love about this role? "It was an interesting story told in an interesting way," he says. "It's my point of view, Forest Whitaker's point of view, Sigourney Weaver's point of view. It's 15 minutes of each person. It's like Andy Warhol where you get to be the star of your own life for fifteen minutes, and you're a background character."
He waves. "Thank you, take care."
Next up is Sigourney, who used Katie Couric's Today Show broadcast on 9/11 as inspiration to play a journalist. How did it feel to portray a newsperson? "I think it's very exciting. I really do. It's much more important than what we do. It's a big responsibility if there's a horrific event to put out the news responsibly and to not allow your own emotions to take you away."
Article continues below advertisement
Forest and his wife dash through. "They want me in here," he says.
There's seating drama for Zoe, whose rep demands six spots together. As she runs by, Zoe calls out "water, chapstick and blush" as her favorite beauty products, and says she splurges on shoes. "Lots of YSL shoes. I love them."
Wildest behind-the-scenes moment?
"When we were doing the car chase, Matthew was sitting in the car," director Pete Travis tells me. "One of our locations got lost and he had to do a bit with green screen, and he was in a really bad mood. We had a cross word with each other, and he said 'it's never going to work.' But then when he saw the car chase, he was amazed by it. It's one of those things where sometimes you have to ask people to do something they don't think is going to work even though you know it will."
Vantage Point is in theaters now.