NEWS
Stars Roll Out For 'The Day The Earth Stood Still'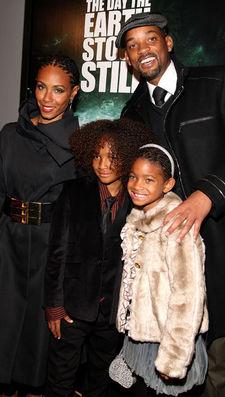 Will Smith and Jada Pinkett Smith certainly know how to make a scene. The married movie stars dually shun and invite the spotlight during their son Jaden's premiere for The Day The Earth Stood Still, held Tuesday at AMC Loews Lincoln Center in NYC. The remake of the 1951 sci-fi thriller is in theaters Friday.
As Linkin Park's Breaking The Habit and Living Colour's Cult of Personality blare, the threesome take turns dashing into a crowd of autograph seekers -- a trick my WPLJ pal Brad Blanks calls "the old Hollywood duck-and-run." As Jada heads into the fan pit, Will returns.
Article continues below advertisement
"I'm here so my son can show me up, but I'm going to step back tonight," Will says. "You guys are going to get me into trouble. I'm not supposed to talk to you. I'm letting him do his thing."
Is Jaden, 10, giving Will competition?
"You know better than that," Jada says shyly, standing ten feet away from reporters before moving up to gush about her son.
"As a mom, it's hard when you put your son in a classic and you hope he can be part of the group to make the movie work again," she says. "You always try to make it better than the classic, and that's what is very difficult, because that's what makes it a classic. But he had a great time and I'm very proud of him."
Switch! As Jada heads into the theater, Jaden captures the spotlight. Does he feel like a star tonight?
"Not really," he says. "Sometimes I don't feel like that."
Keanu Reeves steps up, and his charm immediately puts me on his side. He accidentally slams his hand into my recorder as he's telling a story, but makes no fuss. A reporter asks if there are elements of a certain religion practiced by TomKat in this tale.
Article continues below advertisement
"Maybe in the beginning it's a little more alien-infused, but the Scientology element is happening as well," Keanu says.
After making this movie, both stars Jennifer Connelly (whose legs are like toothpicks) and Jon Hamm believe in alien encounters.
"I think there's probably some form of life elsewhere in the universe, given the scale of the universe," Balenciaga-wearing Jennifer says.
Golden Globe winner Jon agrees. "I just think the numbers are too big," the Mad Men star, who is accompanied by girlfriend of ten years Jennifer Westfeldt, tells me. "There's too many stars and planets and people and things out there. There's gotta be something on top of them."
Who would Ms. Connelly trust to save the world?
"I wish Obama a lot of luck. Or my kids – they're pretty clever."
Director Scott Derrickson fuels my newfound interest in Keanu.
"He's a pretty serious person with a lot on his mind," Scott says.
Apparently, The Matrix star is a voracious reader.
"He reads more than anybody I've ever met," he tells me. "It was something new every time, because every time I'd see him, he'd finished the last book he had. He reads a lot of fiction, historical fiction, some straight history, science fiction. I saw him go through many genres in the short time I've been with him making this movie."
Article continues below advertisement
Another selling point? Keanu is always on time.
"He's extraordinarily punctual, and he's extraordinarily prepared," he says. "Actors are all over the map on that front, and some of them can be very undisciplined and some of them can do what they want because they're movie stars. He's really the opposite extreme of that. He has an extraordinary work ethic. I never found myself ever needing to push him along to get him to work harder."
Sounds good!
The Day The Earth Stood Still is in theaters Friday.