NEWS
Stars Share Halloween Memories, Plans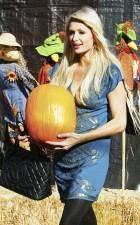 While Hugh Jackman is suiting up daughter Ava in her chocolate chip muffin costume just in time for trick-or-treat, Paris Hilton is making a serious decision.
"I bought eight different costumes at Trashy Lingerie, so I'm not sure what I'm going to wear on the exact night," Paris says. "But I'm going to have a party at my house and probably be Dorothy from The Wizard of Oz."
Gossip Girl's Penn Badgely recalls his 2008 costume.
Article continues below advertisement
"In an effort to disguise myself, I put on a long mullet wig and a fake mustache," he says. "I was complete white trash, and I had my friends call me Dwight all night. I think it drew more attention to me than it helped."
Mario Lopez cherishes his best Halloween memory.
"Getting to go to Hugh Hefner's Halloween party," the former Saved By The Bell star and current Extra host tells me. "He just goes all out. It's great. Haunted houses, food, bands, DJs. It's a super party."
Martina McBride shares a Halloween tradition.
"Around Halloween, we go and pick out our pumpkins and carve them," the country singer tells me.
Russell Simmons is retreating to his 2008 Halloween costume of Run DMC's Reverend Run.
Singer Fefe Dobson recalls, "Last year I was a burnt girl in a fire, and maybe this year I'll be something from the Evil Dead Trilogy. The burnt girl went over really well. I have no clue how I thought of it. One side of my face was burnt and drooping – I tried to make it with mold – and then I had a doll I destroyed. People liked it."
Article continues below advertisement
Bar Refaeli will miss the spooktacular holiday.
"Many Halloweens before I would be Barbie, but this Halloween I will be in Israel and we don't have Halloween there," the supermodel says. "Our Halloween is in March, so we're going to wait."
Favorite Halloween candy?
"Candy corn, with the different layers – the orange and the white and the yellow," Celebrity Apprentice star Holly Robinson Peete tells me. "That was the one I could never get enough of."
Country singer Luke Bryan tells me, "Nerds. I have always loved nerds because of the little boxes."
Others believe in everything in moderation. Mary-Louise Parker's plan of attack: "Try not to eat all the candy."
Former Boy Meets World star and current The Dish host Danielle Fishel tells me, "I don't eat that much candy on Halloween. The holiday that most people allow themselves to have candy is the one where I'm like 'no, I will not have any candy.' Although I am a Reese's Peanut Butter Cup fan and a Reese's Pieces fan. Reese's Pieces are an underappreciated candy. They're better than M&Ms."
Article continues below advertisement
But some stars won't celebrate.
Howard Stern's wife Beth tells me, "We don't like Halloween. It scares me. I just don't like it. I think guys behind masks get really creepy, drunk and scary. We stay in. We'll go to a nice dinner, and we're home by 8:00 at night. That's the same for New Year's and every holiday."
She continues, "Howard and I went as Hooters girls once. laughs That was our first and last Halloween together."
Happy Halloween, everyone!