NEWS
Stars Shine at the Veuve Clicquot Polo Classic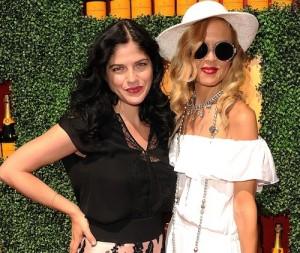 As Will Rogers Historical State Park, stars shone brightly at the Veuve Clicquot Polo Classic. Whether it was Selma Blair dishing post-baby deets, Lauren Conrad revealing she doesn't have a celeb crush or Rachel Zoe sharing marital advice, it was quite a day!
Considering she gained 50 pounds during her pregnancy, Selma looks so good post-baby even though she told OK! the weight hasn't come off yet! "Well, I stayed home completely sedentary at home just spending time getting to know my baby and I have only gone to Pilates twice so…" Revealing that she hasn't lost "any weight since I left the hospital," she added, "I am trying not to obsess about it."
Article continues below advertisement
OK! NEWS: SELMA BLAIR ON BABY ARTHUR — "HE'S PERFECT"
Selma explained, "I gained almost fifty pounds but I lost some weight with the baby so it's a work in progress and I am trying not to stress about it." As for motherhood, she feels "very lucky" and notes it's "an amazing adventure into following your intuition."
The Cruel Intentions actress mentioned it's cool her friends are all having babies, too and added not Sarah Michelle Gellar again, that she knows of anyway. When asked about Lindsay Price and Sarah Michelle, she responded, "Yeah...no, I don't think Sarah Michelle. G-d I would feel horrible, she is one of my best friends, if I didn't know."
OK! NEWS: MTV PULLS PLUG ON LAUREN CONRAD REALITY SHOW
Switching gears, there's something Lauren doesn't know and that's her celeb crush! She told OK!, "I don't have one. I think I should get one." So maybe that means the rumor that she's dating Derek Hough is just that — a rumor?
As far as Dancing With the Stars goes in terms of dancing, not Derek, she told reporters she would never be on the show. "I wouldn't because I can't dance so… I would humiliate myself.
Article continues below advertisement
Also, she also noted that she loves what she does so being married and on reality TV isn't difficult because "you're having fun." She added, "When you laugh a lot and take humor in yourself and in your life and I think honestly having Skyler has just I'm pretty much always in a good mood. I'm always happy."
Reporting by Gena Oppenheim