NEWS
The Stars Step Out to Face a "Devil"-ish Premiere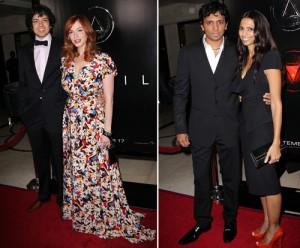 Being stuck in an elevator is already an unpleasant experience, but if you then found out one of your fellow trap-ees was the devil? Such is the premise of M. Night Shyamalan's movie Devil, which stars Geoffrey Arend, Chris Messina, Jacob Vargas and others. Geoff shouldn't be scared though, as he had wife Christina Hendricks by his side at Wednesday night's premiere in L.A.
Article continues below advertisement
Christina looked devilishly pretty, at least, at last night's screening. She and fellow actor Geoff got married just last year, after being introduced by her Mad Men co-star, Vincent Kartheiser, who plays Pete Campbell.
OK! NEWS: ROLLING STONE MOVES ON WITH MAD MEN COVER
Christina explained recently how getting married changed her relationship with Geoffrey.
"I feel even more nurturing toward him," she said. "Now I'm like, 'Oh, you're my baby! I gotta take care of you. You've gotta be safe and healthy, and I've got to be sure that you'll be there until the end, because I really love you! And when something starts to aggravate either of us, it's like, 'Wait a minute, this is not a person who does bad things intentionally'."
MORE ON:
Christina Hendricks