NEWS
Stars Step Out For L'Oreal Legends Gala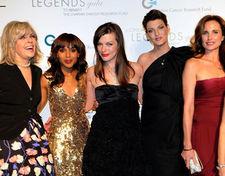 It's high drama for the L'Oreal Legends Gala, benefiting the Ovarian Cancer Research Fund, held at the opulent American Museum of Natural History in NYC. The event raises $4.3 million to fight the killer through ticket sales and silent auction.
Dapper Pierce Brosnan, who is arm-in-arm with wife Keeley, has a lilting Irish accent and tells a heartwrenching story about how he lost his first wife to ovarian cancer. What does he think of celeb activism?
Article continues below advertisement
"If you have a passion and a desire and a want and the willpower of mind to do good things, then you should go out there and do it and not be crushed by anybody who says otherwise," he says. "There will always be people that will knock you down because you're an actor or you're a celebrity, but ultimately if something touches your heart and is crucial to your life force, then speak up."
What makes Keeley beautiful? "Her kindness, her love, intelligence, humor and grace," he tells me.
Milla Jovovich is jovial, and gushes about her daughter Ever. What's their favorite mommy-and-me activity? Well, Europe.
"When we're in Europe, we like to go and walk around, which is really fun, because in L.A. she gets carsick," she says. "It's really hard because you have to get in a car to do stuff, so that's tricky for us right now. But every time I travel with her abroad, it's amazing because we can just walk around and she loves to see people. We always go to the park, but we have a beautiful property in L.A. that's like a park. We invite her little friends, we go to gym class. Just to play with her! I love to just sit in the family room and play with her. I mean, read Russian stories to her. She'll bring me her book and she'll plop down and we'll read together. It's amazing."
Article continues below advertisement
Here comes Lanvin-wearing Linda Evangelista, who describes her style as "confused" before taking issue with the cameraman, asking how close he's shooting her. "You look fine," he assures her. "Do I look fine, or fabulous?" she icily responds, supermodel-style.
And, how does Kerry Washington like to indulge? "I'm a real massage girl," she says. "I could literally get a massage every night for the rest of my life, and it wouldn't be enough."
Andie McDowell introduces me to daughter Rainey. What happened on her first modeling job? "I worked for Women's Wear Daily. I showed up, and I didn't know at all what to do. I didn't look like a model. I had no makeup on, a t-shirt and jeans because I didn't have any money. But I worked very, very hard, and by the end of the job, they only used me because I cared so much and worked so hard."  
The actress wasn't always living a lush life fit for a fashionista. "I grew up kind of poor in South Carolina, so I didn't know what was going on. I was not a real fashion savvy child because I wasn't exposed to that culture. I didn't know anything about fashion until I was in New York, learning by the seat of my pants."  
Here's Harvey Weinstein with his Marchesa-designer wife Georgina Chapman. What makes Georgina beautiful? "That she wears L'Oreal. She likes L'Oreal. What do you think I'm going to say?" Bahdum-bum!
Time for dinner. On the menu tonight is braised beef short ribs and filet duo; horseradish whipped potatoes; and a mélange of fall vegetables. Diane Keaton gives a tribute to an outgoing executive, saying "Life is about moving on." Smart! The take home gift bag includes L'Oreal goodies – for men and women -- in addition to a silk tie, umbrella and Lord and Taylor gift certificate. Sweet!