NEWS
Stars Swing Their Troubles Out On the Trapeze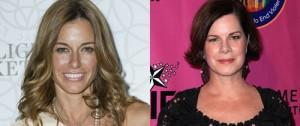 When Kelly Bensimon and Marcia Gay Harden aren't working on their showbiz careers, they can be found flying high on the trapeze.
"I went to trapeze school, and that was pretty daring because I was afraid they were not going to be able to get me," Real Housewives of NYC star Kelly tells me during the premiere of Cirque du Soleil's Banana Shpeel held Wednesday at NYC's Beacon Theatre. "But it was fun. It's something everyone should do in New York. Not only see this, but also go on a trapeze."
Article continues below advertisement
She adds, "You're allowing yourself to be free -- and you're completely out of the box and out of your comfort level, and I think that's sometimes exciting."
For Oscar winner Marcia, it took her 11-year-old daughter Eulala's fondness for the high-flying hobby to convince her to give it a shot.
"She forced me to take trapeze," Marcia tells me. "It wasn't pretty. For some reason, my legs got stuck trying to get me up there. I'm not going to say it was my large bosom, but I couldn't get them over the thing. It was exciting! I flew, I did a catch. It was at trapeze school. I flew through the air, and got caught. It was so exciting. It was freeing. It's lovely."
MORE ON:
Red Carpet Confidential
Even scarier, Marcia has told me she has a fear of heights.
"I was shaking at the top, and they just go 'ready? Hup!' and you jump. But you're on cables, and there's a little part of you that thinks 'you're going to have to push me to get me to jump because it's going to break.' The minute I'm on it, it's going to break. But I've seen it enough through Eulala that I knew it was safe. I had a great time."
Although Marcia won't be leaving her acting career behind to perform in the big top, her daughter dreams her own dreams.
"Eulala wants to join the circus," Marcia shares.
Hmm, would she let her?
"Of course -- if that's what she wants to do," she tells me. "Cirque du Soleil is awesome."
Catch Cirque du Soleil's Banana Shpeel at NYC's Beacon Theatre through August 29. And, if you're interested in trying out the trapeze, sign up for classes at Trapeze School New York. For more on Kelly Bensimon's body secrets, pick up the OK! on newsstands now. The cover line is "Rob's Marriage Proposal."