NEWS
Stars Talk Christmas Gifts, Traditions, Plans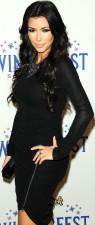 Christmas gets a new twist in 2009 for Kim Kardashian, whose sis Kourtney welcomed son Mason earlier this month and sis Khloe wed NBA star Lamar Odom earlier this year. She's prepared for the unexpected.
"I think we have drama all the time," Kim tells me. "We just always try and stay calm and work it out. There's never anything we can't handle together as a family, so because we have it year-round, it doesn't really phase us during the holidays. It's not any different."
Article continues below advertisement
One tradition will remain the same as the family celebrates each year with a Christmas Eve party.
"We carry on the traditions that we've grown up with, and I know Kourtney wants to continue those with her baby," she tells me. "We try and always stick together. We all have a really tight relationship, and we're all really strong and close."
Sherri Shepherd can always count on Uncle Fred to do something zany.
"We let him out from upstairs every holiday, and we put him right back up there," The View co-host says. "He's crazy! My Uncle Fred has been through everything. He's libel to say anything once he gets some liquor in him, and he tells all the secrets that the family likes to keep buried. But he's good for a good laugh."
Rosie O'Donnell shares her family tradition.
"We do matching pajamas on Christmas morning," she says. "We've done that since the kids were born. This year, it's getting hard to convince the 15-year-old to put on matching pajamas, so he made a vote for those solid red ones with the heiny flap. You know those all-in-one? I forget what they're called – it took awhile to find them on eBay, but we found them. That's the funnest one."
Article continues below advertisement
Rosie can't get enough of Christmas shows like Frosty The Snowman and Santa Claus Is Coming To Town. "I'm Mr. Snow Meiser," she sings. "I love that."
Queen Latifah looks forward to tree-trimming at her mom's house.
"It's fun," she tells me. "We break out all of the holiday music, and get the eggnog going with the nutmeg, and we break out the tree and all the stuff. She has some around-the-way versions of some of these holiday songs that are so funny they sound like bad demos, which makes them even funnier to sing. Of course, South Park usually shows some good holiday episode. It's a good time. We have a good time spending time together as a family, cracking jokes and putting up the damn tree."
Travel is a tradition in Mark-Paul Gosselaar's home.
"We usually have Christmas in California as well as then we fly to Michigan and have Christmas," he tells me. "Our kids are pretty spoiled. They get two Christmases. That's been a tradition of ours. We take the kids to go see snow during the holidays, and we're just together and we decorate the tree together. The important thing for me is as long as we're together."
Article continues below advertisement
Martha Stewart gussies up her pets for the occasion.
"My dogs get all dressed up," she tells me. "They love it. For Christmas, they'll wear a little glittery necklace or a little velvet coat."
How will she spoil them?
"I'll just pay attention to them," she says. "My animals are members of the family, so they just assume that they're being treated as well as any of my guests, and they are – maybe better."
What are the stars asking for this year?
Sarah Silverman says, "I only want two things: Just to be happy, and also I would like to have my face on money."
Mario Lopez wants a dog.
"I'm leaning toward a French bulldog, but we'll see," he tells me. "I want a small, portable dog, and it's a cool, tough little dog. I've heard nothing but good things."
Singer Ke$ha has an odd request.
"My mom found my placenta, so she's crushing it up and making it into a necklace because I think it makes you psychic," she says. "Honestly, I'm not looking for anything except for my placenta in a necklace. I'm excited about being able to give presents this year that are badass."
Article continues below advertisement
Ralph Macchio tells me, "What I need is some good Bose sound-blocking headphones. I always almost buy them, but then I say 'I'm not going to spend $300 those for myself.'"
The Dish host Danielle Fishel hopes for a Kindle.
"I think that's the greatest thing ever, because I do like to read," she says. "The idea of being able to have a Kindle that stores thousands of books that I can take with me anywhere, and carry around that kind of information and knowledge, is fascinating. I can't wait to have one."
Meanwhile, Miranda Lambert wants a llama. "I think llamas are very cool."
For Lady Antebellum's Charles Kelley, iTunes gift cards are the way to his heart. The band's Hillary Scott hopes to load up on seasons of TV shows on DVD. "We spend so much time on a plane or a bus, and it's always good to pass the time with those," she says. "We watch a lot of The Office. We watch Entourage, we watch Eastbound and Down."
Article continues below advertisement
Buying presents for Darius Rucker is difficult.
"Anytime I want something, I just go buy it," he tells me. "My wife always gets mad because she can't buy anything for me."
That said, he would be thrilled with a photo.
"A nice plain picture is probably better for me than anything else," he explains.
Leighton Meester confesses the best gift she ever received has been a robe.
Both Donald Trump and Reba McEntire wish for "health and happiness."
Family time is high priority on Jason Aldean and Mario Lopez's lists.
"I want to eat a lot, have some cocktails, a little gambling," Mario tells me of family time. "We'll watch movies."
New Moon star Chaske Spencer should be easy to please. "I want to get lots of sleep. I'm tired. It's great being in New Moon, but it's a bit exhausting."
One thing's certain: Kelly Ripa's kids will be happy as long as they don't get coal.
Merry Christmas, everyone!
Here are my photos with the stars: