NEWS
Stars Talk New Year's Plans, Traditions, Mishaps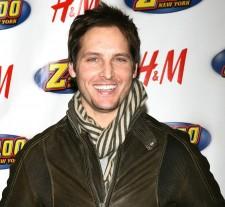 This New Year's Eve will rock for New Moon star Peter Facinelli. But it wasn't always such a great holiday.
"I remember going to New York and not getting into the clubs on New Year's Eve," he says. "The ball dropped while I was standing outside some club, freezing. My friend was tired, so he pulled over, and we all fell asleep in the car on the way home, and the car battery died. It couldn't get worse, man. At 3 a.m., calling your mom, and saying 'can you come pick me up?' I was, like, 16, which is why I didn't get into the clubs – and you should not either."
Article continues below advertisement
New Kids On The Block singer Joey McIntyre will celebrate his birthday.
"When I was growing up, sometimes I felt like no one cared it was my birthday because everyone was partying, but then you can turn it around and say everyone's having a good time, and my birthday is just the cherry on the top," he tells me. "It's fun."
Kris Allen will ring in the New Year in Las Vegas. "I've never been to Vegas," he says.
2010 is a time to rethink old habits, and make new plans.
Mario Lopez says, "I would say not work as much, but I love to work, so maybe take a little more time to relax. Try to carve it out and not pile too much on the plate. And not miss church. I don't want to miss church. I'm bad at missing church. I go during the week, if I miss mass … I'm going to try to go every week and actually come to mass. I try and be a good Catholic boy."
Article continues below advertisement
Adam Lambert says, "My New Year's resolution is to continue being positive and try to live in the moment and enjoying it."
Justin Bieber says, "I want to stop eating as much candy."
Jason Aldean says, "I've gotta learn how to call people back more. I'm pretty bad about returning phone calls. I've gotta get better at that – amongst other things – but that's one of my big ones."
Susan Sarandon says, "I don't want to be in a film where one of my kids die or I die. That's my New Year's resolution."
Real Housewives of New Jersey star Jacqueline Laurita has a popular one.
"I want to get back to my weight," she tells me. "I want to lose my weight, eat healthy, workout. The same thing every year."
Vampire Diaries star Jasmine Guy opts out of resolutions.
"I usually don't make resolutions. I don't believe in them. I make resolutions along the way in my life, in my year, but not on New Year's."
Former Boy Meets World star and current The Dish host Danielle Fishel aspires to be on Dancing With The Stars in 2010.
Article continues below advertisement
"I've told them really straight forwardly that I really want to do the show, and unfortunately they've got thousands of other celebrities that feel the exact same way," she tells me. "There are so many people who want to do that show because it's a real classy show, especially for reality TV. I told them I'm interested, they know I'm interested, and hopefully one day they'll think I'd be a good fit for the show. "
Her dream partner is Maksim.
"He is the biggest, manliest dancer they have on that show, and I think for me to have a male dance partner, I would want someone that I felt very feminine next to. I think he's the manliest dancer on the show."
What does Kimora Lee Simmons hope to accomplish in 2010?
"I'm always thinking about growing my family and expanding my business and empire," she tells me. "My line is international. It's always about building the brand out, and supporting the brand and marketing initiatives. It's about making things work and keeping things going. I always have my work and my family on my mind."
Happy New Year, everyone!
Here are my photos with the stars: