NEWS
Stars Talk Plastic Surgery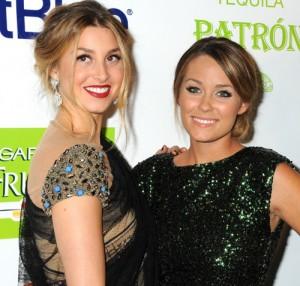 In the OK! on newsstands now, plastic surgeons dish on what procedures today's biggest stars have had done.
Now Whitney Port, Lauren Conrad, Reba McEntire, 30 Rock's Katrina Bowden, Project Runway's Nina Garcia and Lost's Rebecca Mader weigh in with their thoughts about going under the knife.
"I think it's a personal thing," Whitney tells me. "If they feel like it's necessary and it's going to make them feel more confident, then more power to them."
Article continues below advertisement
Lauren says, "It's hard because you're in that position where you're being criticized for everything. Do you ignore it, and try to be beautiful on your own and be happy with the way you look, or do you listen to the criticism? They put them on this platform, and they tear them apart and then they criticize them even more for changing themselves. It's hard to say. I think you try and be confident with the way you are."
For Reba, plastic surgery-type talk quickly becomes awkward.
"I don't do Botox. I don't do it. Everybody else can, it's fine with me. I don't. It's botulism, so I didn't want to put that in my body. I don't do Botox. I'll put it to you that way. I think plastic surgery's great if that's what you want to do."
When asked if she believes in looking good through natural means – by keeping healthy -- she dodges the question.
Article continues below advertisement
"I didn't say that. Let's not go into that one."
But not all stars feel the need to perfect their pout.
"I don't think there is much pressure," Katrina tells me. "Everyone wants to look good. I don't feel like there's pressure, but everybody wants to look their best. I don't personally ever feel pressure to get cosmetic surgery. I think it's personal choice."
Rebecca says, "There's pressure all around from the media for beauty for every woman in the Western world. Whether it's cosmetic surgery or losing weight, I think there's a lot of pressure for women to be perfect in our society."
She adds, "I've been watching Jessica Simpson's The Price of Beauty recently, and I appreciate what she's done. I think it's sweet the way she shows the different cultures trying to be beautiful, like in Africa, where it's more beautiful to be fat than thin. I think that's interesting."
In fact, the pressure to look good has eased for the actress as the years have passed.
"It's gotten better for me because I used to be a model, so it was worse in the fashion business than it is as an actress. I'm happier. I can be a little bit bigger laughs and get away with it."
Article continues below advertisement
According to Nina, the pressure to get cosmetic procedures has increased.
"I think it's terrible," she tells me. "I don't agree with it at all. I think the more natural you are, and the more you celebrate that naturalness – I'm not saying I'm against plastic surgery, but when it becomes something that is outrageous and completely over-proportioned, then I think it's a problem. If there isn't an image problem, it's all right."
Pick up the OK! on newsstands now for more plastic surgery scoop. The cover line is Kendra/Kim/Audrina: "Boob Jobs, Botox and Lipo."