NEWS
Stars Usher In Obama Nation??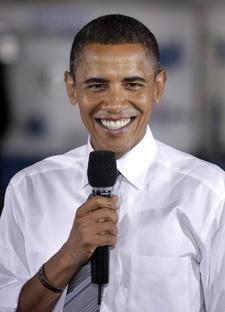 Angelina Jolie, Oprah Winfrey, Russell Simmons and Scarlett Johansson got their wish as Barack Obama claimed a historic victory in his bid for president last night.
When asked what celebrity would make the best president at the W. premiere a few weeks ago, Russell was passionate Baracking the vote.
"Obama's got a whole shift in economic policy -- the idea of trickling up versus trickling down," he tells me that evening. "The Humane Society supports Obama. The greatest cause of global warming is farm animals, and the idea of dialogue around the world is important. The cosmic result of all our bad foreign policy is something we have to shift, so I think he'd be very good."
Article continues below advertisement
Sure thing, Russell was the first person to e-mail me moments after Obama became the first African-American president elected. I caught Oprah and Jesse Jackson tearing up at his victory bash.
"Obama's election as president is a beautiful testament to the American collective consciousness that is flowering," Russell writes to me. "This more loving consciousness will be necessary to protect us from some of our hurtful human choices and tendencies. We will need it to create balance with the constantly emerging advances in technology so we can use these advances in a positive way to lift up Mother Earth and all her inhabitants."