NEWS
Stars Who Care: Alek Wek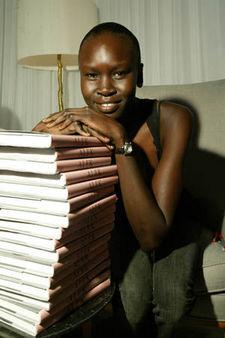 Few can say they escaped the current atrocities in Sudan, but supermodel , who fled the war-torn African nation with her family in 1991, has a rare story of inspiration and survival. And now the gorgeous gal is putting her celebrity to good use, shining light on this poverty stricken country.
"There are many regions, which don't have safe drinking water readily available, affecting more than half of the population," Alek told OK! during brunch at the Mercedes Benz Star Lounge. "Many people have to walk sometimes an hour each way."
Article continues below advertisement
Three years ago, Alek returned to Sudan with Doctors Without Borders and witnessed firsthand how the littlest bit of nutrients brought these malnourished children back to life within a matter of days.
"Organizations like UNICEF have done a great job of helping to remedy water and environmental sanitation crises and health and nutrition concerns, but there is still so much more work to be done," she says.
In fact, she even started her own non-profit organization called W.E.K. (Working to Educate Kids), which provides educational tools and resources to underprivileged children of Sudan as well as inner city schools in New York City.
"When I last visited Sudan, children begged for such basic things as books and pens, things that we often taken for granted," the author of Alek: From Sudanese Refugee to International Supermodel explains. "My father was a teacher, so the importance of education has long been in my blood." To learn more about her struggles and triumphs, pick up her book.