NEWS
Stephanie Pratt On Settling Down With a Man: "Hell, No!"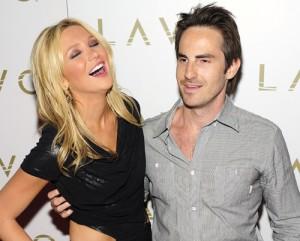 Stephanie Pratt is in no rush to settle down, but she does have fun dating around! The reality star brought close "friend" Mike Appel — who is a National Marketing Associate at 944 Media — to serve as her arm candy at Lavo nightclub's two-year anniversary party, and she gushed that her date is "the cutest guy in the whole world!"
When asked by reporters at the event if she was dating Mike, Stephanie responded shyly, "This is very awkward! I think we're going to have to cut this interview short, to be honest."
Article continues below advertisement
Stephanie continued to joke with Mike, calling him "abusive" and "unloving."
"Literally, all I do is date abusive guys," she said.
In other Pratt family news, Stephanie still hasn't spoken to brother Spencer Pratt.
OK! EXCLUSIVE: STEPHANIE PRATT ISN'T BROKEN UP WITH BOYFRIEND
"Absolutely not! No. In September it will be a whole year, so it's getting more normal and normal," she said. "It's His choice."
With Spencer's ex-wife Heidi Montag out of the picture, is a sibling reunion possible?
"Probably not," Stephanie said. "I don't know, you know, life is what it is. When he's ready to come around, I'm going to greet him with open arms. I love him more than anything; he's my blood. But right now, it's my time and I'm having a great time."
Even though Spencer is single, Stephanie had no advice for her big bro when it comes to finding a new girlfriend.
Article continues below advertisement
"Absolutely not. I have no advice for anyone, except than life is beautiful, it's short, do not make enemies, just love everyone. Pray for your enemies, pray for your loved ones, and just have a good time. You never know when your life's over."
As far as Stephanie settling down one day, the reality star doesn't see it in her future.
"Hell, no," she exclaimed.