NEWS
Stephen Colbert Gets Serious About His Faith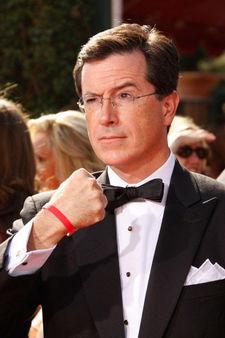 While he's been outspoken about his wrist injury and continues to raise wrist awareness with WristStrong bracelets, has been less open about another more painful wound in his life — the loss of his father and brothers.
Stephen, the youngest of 11 children, was 10 years old when his father, James, and two of his brothers, Peter and Paul, died in a plane crash in 1974, which deeply affected the rest of his upbringing and tested his faith, the comedian reveals to Parade magazine.
Article continues below advertisement
"I was very depressed about it," he says. "I wanted the idea that I would see my father and brothers again, and it was heartbreaking to think that that wouldn't happen."
Raised a devout Catholic, the now 43-year-old was an atheist by the time he got to college at Northwestern University, after transferring from Hampden-Sydney College. The "constant search for healing" had taken its toll on Stephen, who was also regularly beaten up in school.
But everything changed one day when a Gideon stopped the future Colbert Report host on the street and gave him a Bible.
"It was so cold I had to crack the pages. I flipped it open, and it had a list of things to read about if you were feeling different ways. Under 'Anxiety,' it said 'Matthew V,' the Sermon on the Mount. 'Who among you by worrying can change a hair on his head?' It spoke to me."
That revelation allowed him to speak to people. Although Stephen struggled throughout the '90s with his comedy career before he landed a writing gig on VH1, the satirist never gave up. And now, he's not letting others give up either — Stephen, who will release his new book I Am America (And So Can You!) on Oct. 9 — teaches Sunday school in his New Jersey hometown, passing on the Sermon on the Mount.
"That's being fearless," he says. "Not living in fear is a great gift, because certainly these days we do it so much. And do you know what I like about comedy? You can't laugh and be afraid at the same time. If you're laughing, I defy you to be afraid."