NEWS
Stephen Colbert's DNA Sent to Space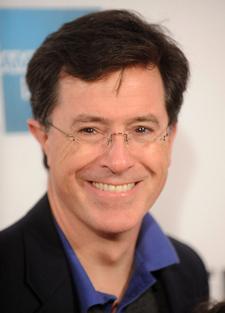 To better prepare against a laughless universe, Stephen Colbert and Comedy Central announced today that the Colbert Report anchor's DNA will be sent among the stars.
''I am thrilled to have my DNA shot into space, as this brings me one step closer to my lifelong dream of being the baby at the end of 2001,'' Stephen said in the statement, referring to the science fiction film 2001: A Space Odyssey.
According to the AP, video game designer Richard Garriott, one of only a few non-astronauts to go into space, will travel to the International Space Station in October to drop off Stephen's genetic code.
Article continues below advertisement
Richard is working on a time capsule consisting solely of human DNA, as part of an "Immortality Drive" to catalog the triumphs of humanity, along with personal messages.
So if there comes a day when humankind has been erased and aliens are in need of a few laughs, they'll be able to produce a Stephen Colbert of their very own to keep the good times rolling. 
''In the unlikely event that Earth and humanity are destroyed, mankind can be resurrected with Stephen Colbert's DNA,'' said Richard. ''Is there a better person for us to turn to for this high-level responsibility?''
Hopefully aliens have a sense of humor!