NEWS
Stephen Moyer's Dog Has Wedding Duties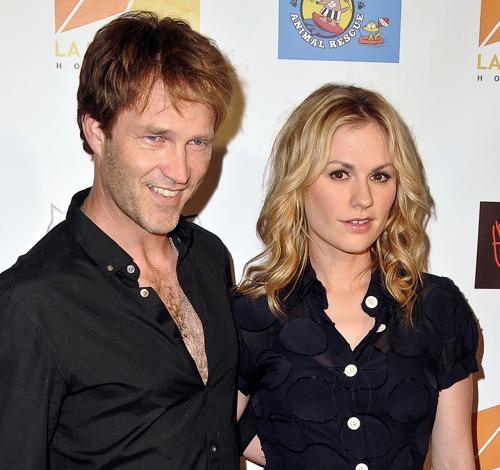 Although newly engaged couple Anna Paquin and Stephen Moyer may not be giving away too much about their upcoming nuptials, the duo spent a night out in L.A.. to support the Good Dog Rescue Foundation and proved they really love animals. Stephen tells OK! his Springer Spaniel/Border Collie cross has a big job: "Splash, my alpha, will be the ring bearer, although my son may not be too happy about that."
Article continues below advertisement
While Anna simply flashed her ring to the cameras and went inside to play with a few adorable dogs, Stephen dished to reporters on her unique engagement rock designed by a close friend, Cathy Waterman.
The silver stunner "has this amazing rustic diamond, its not a rough diamond, but a diamond that isn't sort of clear and we decided to make it into a ring," Stephen revealed to reporters outside of LA Dogworks.
And despite leaking a few minor details on the upcoming nuptials, Stephen admits that he really hasn't even started to think about the big day.
"We haven't planned anything. People always say that we are engaged too be married and I always say that I thought we were just engaged!" The HBO True Blood star explained.
Don't be too worried about their love lasting, though -- Stephen gushed to reporters on just why he is ready to say I do.
Keeping it short and sweet, Stephen claims that he loves his leading lady simply because, "She doesn't take any of my crap!"
By Gena Oppenheim