NEWS
Steve Carell, Tina Fey Dish on Bad Dates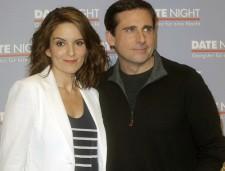 Just because they're stars now doesn't mean Steve Carell, Tina Fey and Taraji P. Henson were immune from dating disasters.
"I went to a Jethro Tull concert when I was a sophomore in high school, and I shook her hand good night," Steve, 47, says during the premiere of his comedy Date Night held this week in NYC. "My brothers mocked me mercilessly."
Lucky for The Office star, he has been happily married to wife Nancy since 1995, and the couple are parents to Elisabeth, 8, and John, 5.
Article continues below advertisement
"Our last special date night was going to the Oscars," he tells me. "That was pretty amazing."
Hm, what role does humor play in their relationship?
"My wife is a very intelligent, funny woman," he tells me. "I think it plays a big role. We're not wacky all the time, but we enjoy each other's sense of humor. I always will go to her as a barometer for what might work and what might not. She's a lot like Tina. Really smart, and really loving."
Steve appreciates having someone to call his own.
"I wasn't much of a dater. I was far too shy. My first date wasn't with my wife. There were dates before that, but I wasn't a 'player' as they say."
What was his best exit strategy back in the day?
"Generally the guys are not the ones with the exit strategy," he says. "It's usually the girl. Back then, there were no cellphones. Girls couldn't receive a call, and say 'oh, my grandfather's in the hospital.' I think exit strategies are generally up to the women."
MORE ON:
Red Carpet Confidential
Article continues below advertisement
For Tina, an exit strategy was key.
"When I was on a bad date in high school, my exit strategy was to pretend to be asleep," she says. "We'd hang out with a bunch of friends, and then I would fall asleep. It works."
What was her worst date ever?
"One time a guy invited me to go mountain climbing on a date, and he fell off the mountain," she yuks. "He was showing off, and he just fell."
Exit strategy!
These days, Tina, 39, is happy to be married to hubby Jeff Richmond, who is the father of their four-year-old daughter Alice. She seconds Steve when it comes to her best date night recently.
"My husband and I did get to go to the Oscars this year, and that was a pretty cherry date night," she tells me.
For Taraji, 39, who is a single mom to son Marcel, 16, blind dates are a thing of the past.
"We were sitting there, and the conversation went like this. 'Right, right, right…so, the weather, it's nice out…' It was a blind date. First and last."
Her best exit strategy also involves a yawn. Her line: "I'm tired, I think I've gotta go to sleep. I've gotta go."
She chortles, "Works every time."
What is Taraji's ideal date night?
"I'm really low maintenance. Show up and do something different. It could be a picnic in the park. It doesn't always have to be the most expensive thing. I'm very easy to please."
Date Night is in theaters now. Catch Tina hosting Saturday Night Live tonight, with a performance by Justin Bieber.