NEWS
Steve-O Returns to DWTS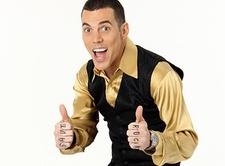 One night after Dancing with the Stars' Steve-O hurt himself during rehearsal, causing him to bow out of Monday night's competition, the Jackass star returned in full form on Tuesday night, happy to give fans the update on his condition.
"I'm back. I really hope I stay in the competition," Steve-O told Samantha Harris. He also confirmed that there was luckily "no fracture" in his injured back.
The Jackass star was performing a back flip during rehearsals for his Salsa when he landed on his microphone pack, injuring his already hurt back.
Article continues below advertisement