NEWS
Steve-O's Stiff Denial of Dating Rumor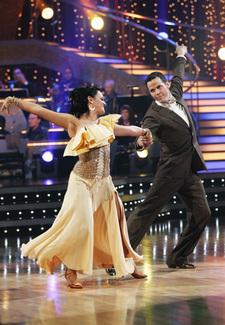 Steve-O has denied the rumors that he is dating his former Dancing With The Stars partner, Lacey Schwimmer... in a way that only Steve-O could.
The Jackass star told OK! that, far from being romantically linked with the dance pro – "I never even pleasured myself over her!"
There were rumors swirling in some of the less reputable gossip magazines that the pair, who were knocked out of the competition on April 14, have been doing some dirty dancing off screen.
Article continues below advertisement
But Mr. O – who has a girlfriend – said that he and Lacey have a "brother and sister" relationship and that there was (how can we put this?) no physical attraction between them.
"There's no truth in that," he said. "I never even ahem... pleasured myself over her!"
Really, Steve, a simple "No" would have sufficed...
The one-time circus clown and recovering alcoholic and drug addict also revealed that his stint on the dance competition was a test of his hard-won sobriety.
"It was a lot more stressful than I thought it would be," he said, adding that it was only because he had "a strong support group around me" that he managed to stay on the wagon during the competition, rather than letting the pressure and anxiety start him self-medicating again.
CHECK OUT A SCENE FROM THE DOC!
Similarly, he said that his new MTV documentary Steve-O: Demise and Rise, which chronicles his road to recovery from addiction, has put a strain on the recovery process itself – because the footage of his drug use brings back some of the shame that made him use.
"I watched it once and it just made me want to go and get loaded, which doesn't make much sense -- but then, addiction doesn't make much sense," he said.
"Releasing the documentary probably isn't a very good idea."
STEVE-O: DEMISE AND RISE AIRS SUNDAY, MAY 3RD AT 10:00PM ET/PT ON MTV
By Oliver Coleman