NEWS
Still Monday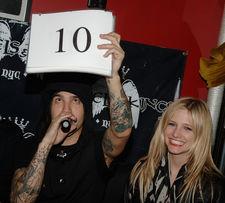 Glad I pumped myself up full of temporary energy. After the 80s party Amber, my friend Maral and I headed over to "Vive le Karaoke" at Angels & Kings, an East Village bar owned by Crush Management (aka Fall Out Boy, Panic! at the Disco and Gym Class Heroes) as well as one of my favorite neighborhood haunts.
When he's in NYC Pete Wentz, the lead singer of Fall Out Boy who's permanently accessorized in black eyeliner and girlfriend Ashlee Simpson, can often be found in a corner table, that on this evening was a stage. Pete sat with Ashlee behind the singers where he joined a panel of judges including Tommy Hilfiger and NYLON Magazine's accessories editor (and designer of Lia Sophia jewelry), Dani Stahl.
Article continues below advertisement
The highlight of the night for me was seeing Chris Cester, the less than sober drummer/vocalist of the band Jet, take the stage to sing "I'm Too Sexy." Lets just say he didn't look like a guy in a band that's sold millions of albums worldwide who was trying to show off at an amateur karaoke night - he looked like one who was trying to remain standing through the performance! It was great.
Chris's brother Nic, Jet's guitarist, told me that the members of the Australian-bred ban have more or less all moved to different continents (Nic's in London and Chris LA doing a music project with Lukas Haas) but they're currently in NYC working on a new album - and keeping all of us, well, Amber and I, entertained in the process. The bottle of vodka and Patron left for us by Charlotte Ronson (who had to go home to rest for her own party the next night) didn't hurt either ;)