NEWS
Stripper to De La Hoya: Not So Fast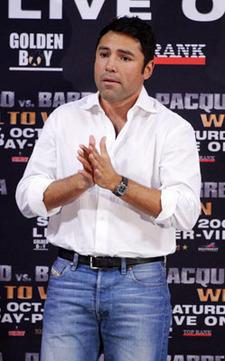 Stripper Milana Dravnel, who claims she had a fling with boxer Oscar De La Hoya and took snaps of him in women's clothing, is fighting mad — and has just hit the superstar sparrer with a lawsuit.
Dravnel says she's the woman behind the alleged cross-dressing pics of De La Hoya and is suing the pucker-faced puncher for $100 million. De La Hoya, she says, is attempting to send the case into secret arbitration and wants the trial to play out away from public scrutiny. Further, she says she never agreed to settle the case privately and has never denied the photos were of De La Hoya.
Article continues below advertisement
De La Hoya's attorney has yet to comment on the case.