NEWS
The Summer of '07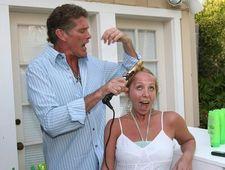 When I get extremely busy, to the point I am now when I feel like I'm floundering to keep my head above water, just a blonde head peaking above the stacks of emails and invites piled up high around me, flip-flopping between stilettos as I head down to a fashion show and ballet flats to shuffle around the office – I find myself slipping into brief moments of procrastination. This usually takes the form of reading perezhilton.com, again, checking myspace or a moment of daydreaming.
Article continues below advertisement
This minute it was daydreaming, reflecting on the summer that came and went. The summer is officially over and as always, it went faster than a Hollywood relationship, but it was packed full of notable news and moments. In the world of celebrity headlines Paris, Lindsey, Britney and Nicole kept the weeklies from having to do much work at all. Well, we worked, for sure, but we never had to worry about filling pages on a slow news week, they kept the news coming, leading me to officially drop the phrase, "Nothing surprises me," in relation to Hollywood, from my vocabulary for eternity.
Personally, standout moments for me would be: going on a mission to Peru with Operation Smile where we actually had the chance to scrub into surgeries that changed children's lives - Molly Sims, Justin Chatwin, OAR's Benj Gershman and I all stood next to the doctor who walked us through each step of the procedure- and were happy our fascination conquered our weak stomachs- then Molly and I celebrated our birthdays with the Op Smile crew in Lima before vacationing at the posh Inkaterra Resort and hiking Machu Picchu; playing volleyball on the beach against a guy from Laguna Beach or maybe it was The Hills (to be completely honest, I've never watched either); seeing a Billy Joel concert from a few feet from the stage at Hamptons Social; standing between Richard Gere and his wife and Christie Brinkley in front of the stage for a Tom Petty show at Social and marveling at how amazing, happy and energetic Richard, Christie and Tom all looked; getting driven home in the tour bus from an OAR show at Jones Beach and the many appreciated moments when I was able to close my eyes while lying in a lounge chair under the sun.
But, best photo moment is hands-down the impromptu moment hanging with David Hasselhoff at the Polaroid House in Malibu when he played stylist as I interviewed him. To hear what he said on being a single dad, a judge on America's Got Talent, and just being The Hoff, click .