NEWS
Summering With Miranda Lambert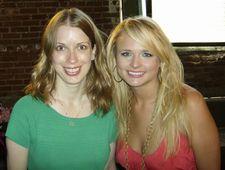 Miranda Lambert is riding high now that she won album of the year at ACMAs for her disc Crazy Ex-Girlfriend. The Texas native, 24, is also lucky in love. The blonde bombshell who was a finalist on 2003's Nashville Star is dating fellow country singer Blake Shelton, 31, and the lovebirds hope to tour together this fall.
Where will you vacation this summer?
The only place I usually go for vacation is home because I'm not there very much. It's peace and quiet and I don't have to be Miranda Lambert. I can be just Miranda.
Article continues below advertisement
What do you like to splurge on?
I have a farm. I have a house that I'm renovating that I keep up. My biggest splurge is renovating my house. I love old antiques. That's what I spend too much money on. Laughs
How do you stay in shape?
I have a trainer on the road that really helps me. As far as eating habits go, I'm from the South, so I used to eat everything fried, everything with cheese on it. Now I eat more salad and healthier stuff.
MORE ON:
Red Carpet Confidential
Do you have a treadmill on the bus?
No, we go to a gym. We have our own weights and we do it outside the bus and see the scenery. I usually walk for about 45 minutes a day.
How do you cope with the pressure to be thin?
To me, it comes with the business. It's not that important. I don't obsess about it. As long as I feel good about myself, I'm a normal sized girl and I want to represent for normal sized girls everywhere in the world that it's OK to have curves as long as you feel healthy and feel beautiful inside.
Any beauty tips you can share?
Whenever you go out, put on a pair of Spanx. It just makes you feel a little more confident. You don't have to suck it in. It does it for you. You don't have to worry about it when you're walking in the red carpet.