NEWS
SUNDAY: RANDOM THINGS I LEARNED READING THE NEWSPAPERS TODAY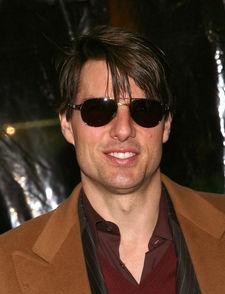 Aside from the latest on the primary debates and antics of Britney Spears, some of the interesting things I read during my day of reading the papers were:
-A 31-year-old filmmaker from New Jersey was miffed about having to spend money on an expensive hotel while his apartment was being fumigated for a week – so he's moved into the Paramus IKEA! Seriously! Mark Malkoff plans to eat, sleep and wait on line for the bathroom at IKEA, the 3,700 square foot home of furniture for college students (and people like me that haven't broken away from their reasonably priced furniture made to fit small places) for an entire week! He even brought a personal trainer. Being a filmmaker, he's going to document the experience. Can't wait to catch that one on youtube!
Article continues below advertisement
-"Tom Cruise: An Unauthorized Biography" is cruising into bookstores Jan. 15. Obviously not scared by Scientology (although he did just give up his home and move to an undisclosed location), the author Andrew Morton alleges Tom left Nicole Kidman because Scientologists told him she was a person in his life creating problems and difficulties and actress Sophia Vergara 'disappeared' after she became paranoid that she was being used "as a high-profile Scientology recruit who would be an alluring figurehead for a future recruitment drive in Latin America" among other salacious claims that must have Tom salivating over legal papers.
-"Croissants make cookies look like rice cakes," the Aussie Cheese Fries at Outback Steakhouse are 2,900 calories and a Whopper Jr. at Burger King is under 300 calories compared to the BK Fish Sandwich that weighs in at 1,000 calories! These nuggets and more can all be found in Men's Health editor-in-chief David Zinczenko's new book "Eat This, Not That."