NEWS
SUPER Saturday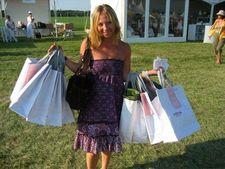 Super Saturday. It only happens one time a year and a couple of my girlfriends and I spend 364 days looking forward to it, quite literally. Super Saturday is a massive outdoor sale where designers from Marc Jacobs to Diane Von Furstenberg, Charlotte Ronson, Issa, Erickson Beamon and Helmut Lang sell stuff for up to, well, sometimes up to 90% off retail – and all of the money for all of the sales (and the $450 ticket to enter for the privilege of shopping) goes to the Ovarian Research Fund. Kelly Ripa hosts the event, Molly Sims, Kelsey Grammer and Katie Lee Joel attended and Donna Karan underwrites it. Last year nearly $3 million dollars was raised. I like the guilt-free shopping and feel like I almost make money because I take my receipts to my accountant and they're actually counted as a write-off. My dad did always tell me, "When you buy something on sale you always act as if you made the difference but you still spent money." Um, hello, glass half full ;)
Article continues below advertisement
During Super Saturday, held annually mid-summer in the Hamptons, everything starts about 50% off. As the days goes on prices go down and by the end of the five-hour shopping day (six if you buy $650 VIP tickets) vendors are almost giving things away!
Currently in our fifth year, Amber, Ali and I have created a science of mastering the art of Super Saturday shopping. We know the precise time we have to wake up to make it past the backed up traffic to be there when the doors open, the clock starts and we split up upon arrival. We know to preview first, jump on pieces we love and hold off a few hours on pieces there in abundance. For example, Marc Jacobs brought dozens of the same dress that I think started off selling for over $100/each and by the end of the day had so many left I got one for $25 (It still had the $298 price tag on it). Conversely, Ferragamo had only single pairs of certain shoes selling for $250, but since that's a severe discount already and they're likely to not be there very long, you want 'em, you've gotta act fast.
Midway through the day we meet for lunch. This year, like most, we're a bit disappointed on how well we've done at halftime and grumble that we're not doing too well. It's hot, we nibble on salad and then head back to the rows of tables. When we regroup again after collecting our purchases we're buried in bags. Even though we rented a car so big I spent the weekend referring to it as 'the yacht,' we barely fit between all of our new belongings. When we get home we drink champagne and do a fashion show, tally up our purchase and per usual, see that we each spent hundreds (charitable donation) and saved thousands. We each have the framework of our wardrobes for the year, presents for family and friends and perma-grins ear-to-ear.
It's 362 days till next Super Saturday….