NEWS
'Super Soul Sunday,' 'Unwanted Guest' And More To Watch On TV This Weekend!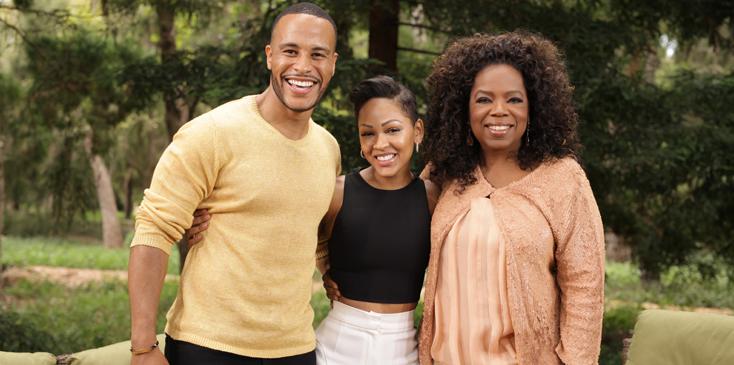 Super Soul Sunday — Aug. 28 at 11 a.m. EST on OWN
Oprah Winfrey sits down with Hollywood power couple DeVon Franklin and Meagan Good as they open up about their faith, courtship and marriage, as well as the key to their successful relationship. Franklin, president and CEO of Franklin Entertainment, and Good, who is an award-winning actress, spent many years crossing paths before their romance began. Once becoming a couple, they chose to refrain from sex during their courtship and credit this approach as the key to their relationship. In their recent New York Times bestselling book, The Wait, the couple offers reasons why celibacy can lead to "the one." They candidly share with Oprah the important moments from their relationship and discuss how celibacy allows them to form a deeper connection based on patience, trust and faith.
Article continues below advertisement
Stossel: Libertarian Town Hall — Aug. 26 at 9 p.m. EST on Fox Business Network
FOX Business Network's John Stossel will host a Libertarian Town Hall event with presidential candidate Gov. Gary Johnson and his running mate Gov. Bill Weld. Stossel, who hosted the first Libertarian debate earlier this year, will focus on the major differences between the GOP and Democratic platforms, as well as hone in on economic, social and defense issues. The event will also feature questions from a studio audience, as well as incorporate topics proposed via social media.
Transformers Rescue Bots — Aug. 27 at 8:30 a.m. EST on Discovery Family Channel
When Blades is unable to participate in a camping ceremony on the mainland due to his Bot form, Graham and Cody help disguise him and uncover surprises along the way.
My Little Pony: Friendship is Magic — Aug. 27 at 11:30 a.m. EST on Discovery Family Channel
When the Mane 6 leave town, Discord decides to join Spike and Big Mac's "top secret" guys' night. But much to Discord's dismay, it turns out to be an evening of fantasy role playing.
Article continues below advertisement
Unwanted Guest — Aug. 27 at 8 p.m. EST on Lifetime
On the last night of school, one of Christine's classmates is found dead and the police are unable to find any suspects. In light of the recent tragedy and with a killer still on the loose, Christine decides to invite Amy to spend the holidays with her instead of staying on campus during the break. However, the happy holidays quickly turn into a nightmare when Amy starts to obsess and wreak havoc on her welcoming hosts.
MORE ON:
Super Soul Sunday
Robin Hood: Mischief in Sherwood — Aug. 28 at 8:30 a.m. EST on Discovery Family Channel
Ralf convinces Robin to join his gang to fight against Prince John. When Robin is away, Marian and Scarlett attack Prince John in order to free Mathilde.
The Great Muppet Caper — Aug. 28 at 3 p.m. EST on Discovery Family Channel
Lady Holiday is a high-fashion designer whose priceless diamond necklace has been stolen. But when Kermit mistakes Miss Piggy for her, it's love at first sight. Unfortunately, Lady Holiday's scheming brother is also wooing the sultry swine so he can frame her for another brazen jewel heist! Now, it's up to Kermit and his Muppet pals to clear Piggy's name and catch the real culprits.
The Muppet's Wizard of Oz — Aug. 28 at 5 p.m. EST on Discovery Family Channel
Singer Ashanti sparkles as Dorothy when she meets the Wizard, who promises to make her a superstar if she and the Scarecrow — Kermit — the Tin Thing — Gonzo — and the Cowardly Lion — Fozzie —can defeat Oz's top diabolical diva, the Wicked Witch of the West — Miss Piggy.