NEWS
Surfing and Stuff...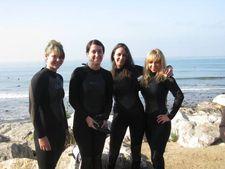 Following my fantastic experience learning to surf with the Oakley pros a few weeks ago, I eagerly went surfing again the following weekend – but was much less enchanted surfing in the fast and furious Santa Monica waves while teenage instructors pushed me out on the board after I'd just been smacked in the head with it and had hardly got back on.
That said, to avoid losing the love of my newfound hobby, and because I promised my little sister who was visiting from NYC that I'd take her, I went further up the coast to Pacific Palisades at 7:45am Saturday (the hours the hobby entails are something I'm going to have to negotiate) to try again.
Article continues below advertisement
I'm happy to report it was an amazing experience, thanks in no small part to sensational surf instructor Tom Grubbs, cooperative, calm enough waves – and a good amount of eye candy ;)
If anyone is in the market to learn to surf, Tom's your man. Tom is thorough, patient, makes you feel safe in the water, has great boards, cute wetsuits, had us all riding waves, even though for half the girls it was their first day – and he seems to know, and have taught, most of the people on the beach.
When we first got there out of the corner of my eye I think I saw Heroes star Adrian Pasdar walk by and on the beach Tom said hi to a bunch of boys, including plastic surgeon Peter Grossman of the Grossman Burn Centers, before regaling us with tales of what a great man Peter is and the work he does to help others.
Tom's a great guy who genuinely cares about his students – at least makes us feel like he does. As soon as he has a slot for another lesson later than 7am, I can't wait to get back out in the water with him again. Check out more on Tom and his surf school at www.surfingla.com - just make sure to make your lessons pre-7am.
Hope you all had a good weekend and did something to raise your spirits after a bleak week in pop culture history :/ xo