NEWS
Suri's New Style Inspired by Katie?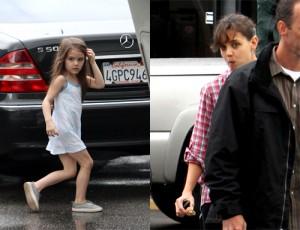 Remember when pre-TomKat Katie Holmes was America's Sweetheart and not America's Sloppiest Style Icon — especially when compared to her fashionable four-year old Suri? Now, it seems Suri has taken a few cues from mom and opted for more casual clothing. The duo was spotted dressed down on the the set of Jack and Jill in L.A. on Wednesday. While Katie looked exhausted, it appears Suri didn't even change out of her nightgown.
Article continues below advertisement
This wouldn't be the first time Suri sported some sleepwear outside the house. This past summer, Suri went berry picking with Katie in an adorable pink nightgown.
OK! GALLERY: SURI SEEMS SKEPTICAL OF HER SWEET RIDE
Some parents wouldn't think a nightie was appropriate day wear, but we'd much rather see the little TomKitten dressing down than in the kitten heels she consistently runs around Manhattan in.