NEWS
Surprise BFFs: Jonah Hill & the Olsens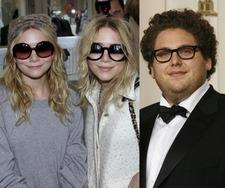 Jonah Hill, star of last summer's one-two box-office punch of Knocked Up and Superbad, is in New York City this week prepping for his Saturday Night Live hosting stint this weekend. And although the actor has been busy in rehearsals, he's also been spending some time partying with Mary-Kate and Ashley Olsen.
On Tuesday, Jonah was seen cavorting with Ashley at the East Village hangout Black and White. The seemingly unlikely pair were spotted enjoying some beverages and partying the night away.
Article continues below advertisement
And fast-forward 24 hours to Wednesday night, where you'll find Jonah with his second Olsen of the week, Mary-Kate. In fact, sources tell OK! that Jonah was too busy frolicking with MK and SNL funny guy Seth Myers at hipster hotspot Lit to make a scheduled appearance at the Hennessy-sponsored BlackBook magazine party where he was supposed to drop by.
By Jocelyn Vena